Akoki Aaron Mojolaoluwa, Grand Prize Winner
Olugbenga Dominion Mojolaoluwa, 1st Runner-Up
Ezima Chinasa Margaret, 2nd Runner-Up
The Wole Soyinka International Cultural Exchange (WSICE) is pleased to announce the winners of the2023 Essay Competition, which is the 14th edition of the annual youth mentoring and mental capacity development initiative.
The 2023 edition of the competition focused on Nation Building, Good Governance, and National Development. Students from different schools were required to explore Wole Soyinka's Humanism, Artistry, and Nationalism in their thought process and writing.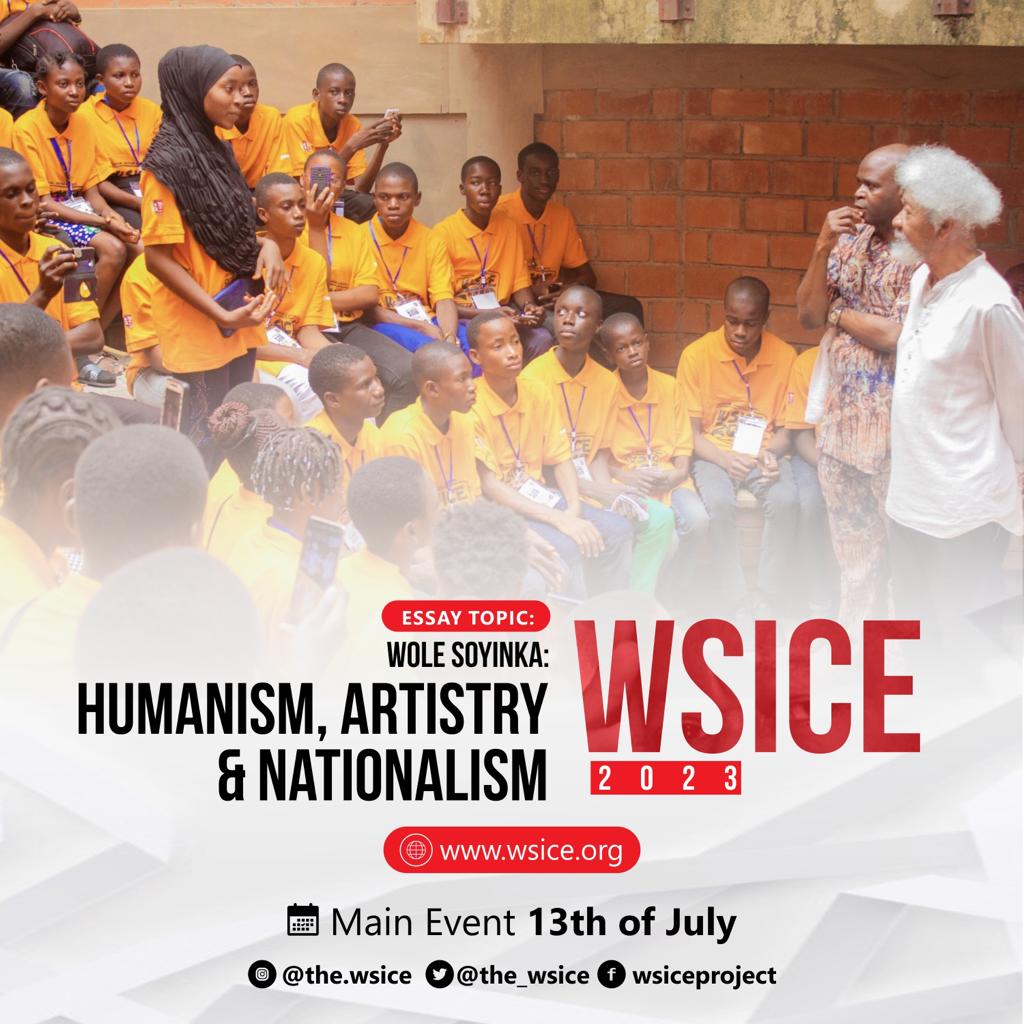 The announcement of the Essay winners coincides with the 89th birthday anniversary (July 13) of the Nobel laureate, Wole Soyinka, the eminent literary artist, teacher, and rights activist,, whose exemplary life and career as a global culture icon and humanist, inspired the project.
Since its launch in 2010, the competition has served as a platform to mentor the youths to imbibe the culture of participating I socio-cultural and political discourses in their environment. It enables the young ones to engage in healthy dialogue about national and international issues, testing the creativity and intelligence of the participants, and building their self-esteem.
A record number of one hundred and eleven (111) entries were received from fifty (50) schools from which 89 finalists were selected through a rigorous process of adjudication by a panel of literary workers and social workers.
After the exercise Akoki Aaron Mojolaoluwa, a Senior Secondary school (SS) 2 student of Adedokun International School, Ifo, Ogun State, emerged as the Grand Prize winner of the WSICE 2023 Essay Writing Competition.
The WSICE also wishes to congratulate the following students:
First Runner-up: Olugbenga Dominion Mojolaoluwa – Salawu Abiola Comprehensive School (SNR)
Second Runner-up: Ezima Chinasa Margaret, Anglican Girls Grammar School (SNR)
We thank all schools and students for their participation and remain committed to our goal of fostering unity, bolstering integrity, and instilling qualities of good leadership as values, stated Dr Teju Kareem, the Executive Producer of the annual WSICE.
Below are the WS 89 finalist names and schools in no particular order:
WS 89 FINALISTS AND
SCHOOL NAME:
1 The Ambassador College, Ota:
Seth-Osahahumen Deborah
2 Victory Model College: Kazeem Sofiat Dolapo
3 Dayon College :
Ariyo Aanuoluwapo Peace
4 Ijebu Ode Grammar School: Tope-Ige Joseph. Ayokunnumi
5 Braford Schools:
Badejo Temiloluwa
6 Salawu Abiola Comprehensive High School: Olugbenga Dominion Mojolaoluwa
7 Peartree International College Olomore, ABK
Umar Peter Olamilekan
8 Adeola Odutola College (Private) :
Adebisi Oluwamayoma
9 Apt Scholars Universal College Iyana-Iyesi:
Otiono Onyeka
10 Mulusi College Ijebu Igbo: Moshood Dhikraa Titilayo
11 Ijebu Anglican Diocesan College, Igan Ipabi:
Johnson Jesutofunmi Janet
12 Ode Remo High School (SNR):
Popoola Josephine Adunmide
13 Anglican Girls Grammar School Senior private:
Ezima chinasa Margaret
14 Abigi Community Grammar School, Abigi:
Abdulrasaq Aishat Omoyemi
15 Saapade Grammar School: Olajide Emmanuel
16 Isara Secondary School: Ogunyemi Samson
17 Saint Peters College (Senior): Ochola Ngbede Blessed
18 Adedokun International School, Gasline:
Adegbayibi Elizabeth
19 Salawu Abiola Comprehensive High School: Adebayo Taiwo Isreal
20 Golden Choice College: Akinola Ayodeji Adeniyi
21 The Crescent International High School:
Oyewole Adetimehin Godwin
22 Adedokun International School:
Adeniran Micheal Oladapo
23 African Church Grammar School (SNR) :
Adebayo Ifeoluwa Adeyemi
24 Purpose Driven School Ijoko: Adams Elizabeth
25 Onigege College,Isara: Micheal Alice Ijogo
26 Adedokun International School, Ifo:
Akoki Aaron Mojolaoluwa
27 Adedokun International School, Ota : Micheal-Onu Gabriella Somtochi
28 Salawu Abiola Comprehensive High School: Ahmed-Junaid Aaliyah Ikeola
29 Saint Paul College : Akomolafe Emmanuel Smith
30 The Christ Cornerstone High School:
Amusan Oluwafikayomi Emmanuel
31 Victory Model College : Akpoji Micheal Enahmeghonoh
32 Saint Paul College :
Kendra Femi-Festus
33 Emeritus Prof T.O Oguniesi Model Secondary:
Amos-Chidi Cherish Oluwatamilore
34 Judah Rhema College: Sunday Justice Ojonugwa
35 Adeola Odutola College (Private) : Adedapo Racheal
36 Braford Schools:
Ikumawoyi Emmanuel
37 Adedokun International School, Ifo:
Shoge Almubarak Eyiwunmide
38 Braford Schools :
Jones Isaac Edidiong
39 Saint Peters College (Senior): Olomore Musediq Yemioluwa Rukayat
40 African Church Grammar School (SNR) :
Ojerinde Kehinde Micheal
41 Isara Secondary School: Ogunbade Olansile
42 African Church Grammar School (SNR) :
Ojerinde Taiwo Gabriel
43 Peartree International College, Olomore,ABK :
Oyedele Ifemibo
44 Baptist Boys High School: Eyiowuawi Enoch Mayowa
45 Hope Immaculate Comprehensive High School Ijebu Igbo:
Omorilewa Oreoluwa Shalom
46 Peartree International College, Olomore,ABK :
Balogun Esther O.
47 Standard Bridge Comprehensive Model College Ipokia LGA:
Suuru Sarah Damilola
48 Adedokun International School, Gasline:
Olumodeji Naomi Busayomi
49 The Christ Cornerstone High School Sadiq Sumayah Aderinsola
50 Saint Peters College (Senior) College :
Odukoya Adunola Precious
51 Advanced Breed Comprehensive College: Okosun Rejoice Obehi
52 Isara Secondary School: Fatimehin Iyanuoluwa
53 Advanced Breed Comprehensive College:
Fadero Peace Oluwaferanmi
54 Adeola Odutola College (Private) :
Osanyintola Oyinade Elizabeth
55 Advanced Breed Comprehensive College: Kunle-Ajayi Oluwasetemi John
56 African Church Grammar School (SNR) :
Olushola Divine Glory
57 Advanced Breed Comprehensive College: Oguntayo Tofunmi Victoria
58 Braford Schools :
Ojo Samuel Oluwasegun
59 Advanced Breed Comprehensive College: Olayinka Gloria Blessed
60 The Christ Cornerstone High School:
Kehinde Oluwabusolami Favour
61 Ilusin Grammar School Ilusin (Senior):
Gbadamosi Kafilat Glory
62 The Christ Cornerstone High School:
Mosaku Precious Atuntirireoluwa
63 Comprehensive High School, Ayetoro: Yusuf Ayobami Mary
64 Standard Bridge Comprehensive Model College Ipokia LGA:
Kudeti Kazeem Babatunde
65 Agunbiade Victory High School, Magbon:
Atoh Bolaji Abiodun
66 Yewa Secondary School (SNR) Igbogila:
Bamgbose Oluwatobiloba Olamilekan
67 Abeokuta Grammar School: Nwabueze Precious Kachi
68 Itele High School (SNR) Ijebu Itele:
Akpavie Eoma Fehintoluwa
69 Sanni Luba College, Ijebu Ode:
Arowosola Ololade
70 The Christ Cornerstone High School: Asipa Francis Toluwanimi
71 Victory Model College: Kazeem Sofiat Dolapo
72 Sunnarian Model College, Abigi:
Salami Rukayat Omolade
73 Saint Paul College :
Abe Enoch Oluwanifemi
74 Isara Secondary School: Sotikare Oluwasegun
75 African Church Grammar School (SNR) : Alex Monday Emmanuel
76 Nawair-ud-deen High School: Adewunmi Elijah Akorede
77 Saint Peters College (Senior): Oloyede Ikmat Ayomide
78 Saint Paul College, Sagamu: Odusanya Oluwatomisin
79 Methodist High School (Senior) Arigbajo:
Akinbode Ayomikun Deborah
80 Saint Paul College :
Osinowo Omotayo
81 Standard Bridge Comprehensive Model College Ipokia LGA:
Adeniyi Lukman Olamilekan
82 Emeritus Prof T.O Oguniesi Model Secondary:
Ekundayo Amirat Bisoye
83 Efire Community High School, Efire : Oluwole Esther
84 Visionmate Comprehensive Academy :
Olutayo Ayomide
85 Standard Bridge Comprehensive Model College Ipokia LGA: Saanu Seseyon Emmanuel
86 Pakoto High School, Ayede: Ifo Okeke Cynthia
87 Peartree International College, Olomore,ABK :
Sanusi Faidat Blessing
88 Pacesetters College, Ayetoro:
Oyebanjo Oreoluwa Favour
89 St Anthony's Grammar Sch (SNR) Esure ,ijebu:
Akinola Oluwanifemi Elizabeth
Media & Communications Unit
www.wsice.org
Tel: +234 708 271 3477