Though he is unable to titillate us with his pristine skills on stage, screen or satellite, as we 'speak'…. Though he is ravaged by concerns of aging, and most especially the unrelenting onslaught of "major neurocognitive disorder"…
Though the man whose piercing probing looks would melt the heart of Ajoke Silva with glee, warmth and love, now hardly poke her with simple jollity of mutual communion… we must never forget the glorious giftings OLUDOTUN BAYEWU JACOBS has bequeathed the thespian world… we must not be silenced by vicarious sympathy at the stumbling of a giant Iroko.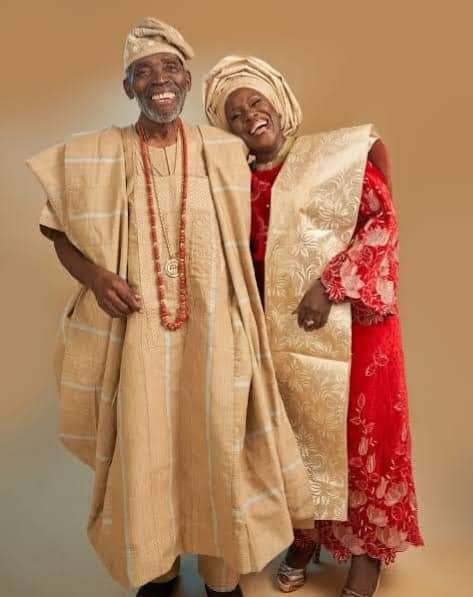 He turned 81 yesterday (July 11, 2023)… and the drums didn't sound frenetic as it should…the cymbals were somewhat somnolent, shamefacedly… Nevertheless, we will always remember him in fondness and awe. This short rehash, which was last used to mark his glorious 80th anniversary last year, is in honour of a great man of gentle mannerisms and cheery charisma…:
"Big in all ramifications. Nigeria's most regarded active actor (male or female) is an icon on stage, film, television and video. Oludotun Bayewu Jacobs has passed the great portals of the British National Theatre; has worked with some of the fathers of British post-modern feature films and television adventure dramas. With credits in Ashanti, Dogs of War, Pirates and Vigilante, few if any, can measure up to the pearly acting skills of this Ogun State-born thespian. Let's look up some of his big-screen credits for clarity – Movies: Customs Officer in The Dogs of War (1980), Col. Nsogbu in Baby: Secret of the Lost Legend (1985); Boomako in Pirates (1986), and the crime celluloid, Vigilante (1988).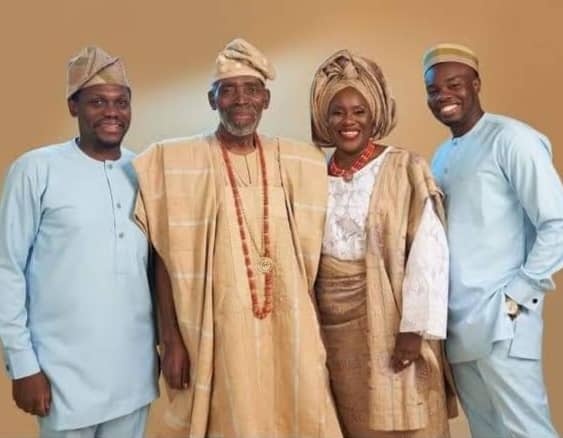 Longevity doesn't necessarily bestow prestige; it's deep in his haystacks of creative credits. Look and see his bulging TV series portfolio: The Goodies (1971), Spyder's Web (1972), Till Death Us Do Part (1974 and 1981), The Venturers, Barlow (both 1975), Centre Play, The Crezz (both 1976); Musa Ladipo in Angels (1976-1983), 1990, The Tomorrow People, Storyteller in Jackanory (all 1978), Ashanti, Sylvester in The Professionals, Not the Nine O'Clock News (all 1979); President Gadin in Squadron (1982), African Doctor in The Mad Death (1983), Rumpole of the Bailey, Mr. Alabaster in The Witches and the Grinnygog (both 1983); Play for Today (1984); and Inspector Best Idafa in The Third Eye (1990–1993).
OJ-Naija, as pals of yore were fond of calling him, is married to the talented veteran actress, Joke Silva since 1985, and has consistently worked hard at his craft to amaze his audiences in every of his performances – irrespective of the locale or the culture.
When he deigned to check out what all the fuss about Nollywood was, he got sucked in…to the tune of no less than 500 flips! He had an uncanny capacity to morph into the Igbo cosmology, and typecast a troubled or somnolent Eze (king) effectively… helped by his imposing gait and big tremulous voice…
The phrase "home alone" was non-existent for Jacob in 2007 with almost 40 videos shot that year! Here's a deep cut: Mirror of Beauty, African Soldier, Burning Kingdom, Eewo Orisa, Kingdom Apart, Lost in the Jungle, Mountains of Evil, Odudu Kingdom, Royal Destiny, Show Me Heaven, Slave to Lust, The Prince and Me, and Warrior's Heart…
It is therefore not out of place that most of today's budding (and established) stars gaze at O. J. as a beacon, an inspirational fire-fly whose influence on the acting world is phenomenal. It feels really great to have an Olu Jacobs amongst us…"
Belated Happy birthday, OJ-Naija!