Governor Okezie Ikpeazu has promised to laiase with leaders and stakeholders of Umunneochi LGA with a view to putting an end to kidnapping and other social vices that have become the order of the day in the area.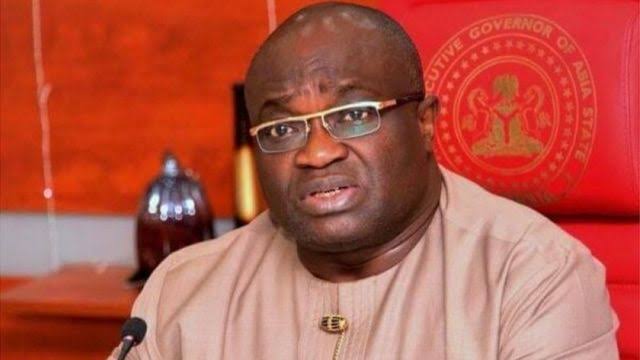 Governor Ikpeazu who was addressing the people of Umunneochi LGA during a meeting at the Palace of Eze Godson Ezekwesiri at Umuelem Isuochi on Friday June 3, 2022, said that the issue of insecurity in Umunneochi and its neighbouring communities has become a matter of great concern, adding that it pains him to see any Abian in danger.
The Governor noted that many steps had been taken in the past, adding that government will no longer treat the matter with kids glove, adding that the recent kidnapping of the Prelate of the Methodist Church Nigeria would mark the end of kidnappings around that area.
The Governor decried the worsening state of insecurity across the country and called for concerted efforts to deal with the situation.
Governor Ikpeazu therefore, directed stakeholders of Umunneochi to articulate various flashpoints in the area for immediate action, restating that the ban on open grazing is still in full force and promised to do all it takes to put an end to the menace.
Speaking earlier, the Methodist Archbishop of Okigwe Archdiocese, The Most Rev. Biereonwu Onuagha who regretted that Umunneochi has been turned into a money making center for kidnappers and other criminals called for the reopening of the Ihube-Lomara road, noting that the closure of the road turned it into a known flashpoint for criminals.
Archbishop Onuagha also called for the immediate relocation of the Lokpanta Cattle Market which he described as a security threat to them and thanked Governor Okezie Ikpeazu for his role in the timely release of The Methodist Prelate recently kidnapped along Leru-Umunneochi road.
Also in their speeches, a former chairman of the old Isuikwuato LGA, Chief Uzo Egbo and the Chairman of the Umunneochi Traditional Rulers Council who is also the Traditional Ruler of Aro Ikpa Autonomous Community, Eze Ernest Onwuka noted that Umunneochi as a Local Government shares borders with all the south East states makes the area vulnerable to all sorts of crimes as over 12 incidences of kidnapping have been recorded along the Leru-Lomara-Nneato road in within a short period of time.
They called for the dismantling of various military check points in the area and thanked Governor Okezie Ikpeazu for coming to their rescue as their sons and daughters no longer visit home due to prevailing insecurity in the area.
Governor Okezie Ikpeazu had on arrival visited the scene where the kidnapping of the Methodist Prelate His Eminece Samuel Kanu Uche and his team took place while the Commissioner for Information, Dr Eze Chikamnayo, Chief Ndidi Okereke, the Member representing Umunneochi State constituency Hon. Okey Igwe, the Executive Chairman of Umunneochi LGA, Chief Ifeanyi Madu, Traditional Rulers, Top Religious Leaders and other stakeholders in the area were present at the meeting.