Theatre is a world of creativity, where actors and actresses bring stories to life through their art. However, for a long time, women have not been given the opportunity to fully express themselves in this field. But in Nigeria, this narrative is changing, and women are beginning to take their place on the stage.
Women in theatre in Nigeria are breaking barriers and shattering stereotypes. They are using their talent and creativity to tell stories that resonate with the audience. Their performances are not just about entertainment, but also about social commentary, empowerment, and awareness.
In a country where women's voices are often silenced, the theatre has become a platform for them to speak out. They are telling stories that reflect the realities of their lives and the challenges they face. These stories are not always easy to tell, but they are necessary for change to happen.
Women in theatre in Nigeria are not just actors; they are directors, producers, and writers. They are taking on leadership roles and making decisions that shape the industry. They are creating opportunities for themselves and other women to showcase their talent.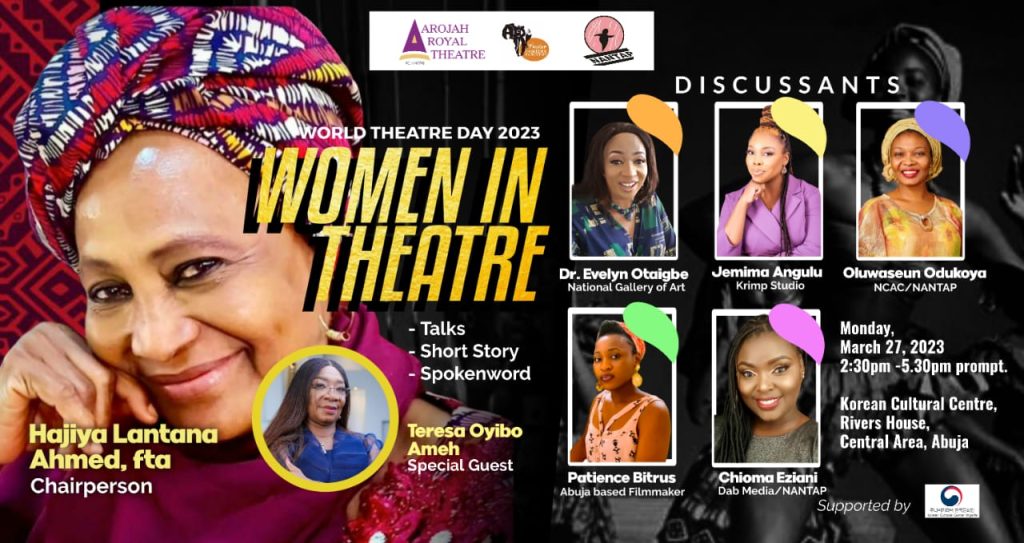 The theatre is a space for self-expression, and women in theatre in Nigeria are using it to express themselves in a way that is authentic and true to who they are. They are defying societal norms and expectations and paving the way for future generations of women to do the same.
As a theatre lover growing up. And now as a theatre maker of more than 15 years standing,
watching women in theatre in Nigeria is a powerful experience. Their performances are emotional, raw, and impactful. They leave you feeling empowered, inspired, and motivated to make a change in your own life. I have had the pleasure of working with a handful of this powerful women in theatre in Nigeria
And here we are talking about the Joke Silvas, 80+ Taiwo Ajayi-Lycet, the Ayo Jaiyesinmi of Thespian Family. The Ifeoma Fafunwa of IOpenEye. The Bikiya Graham-Douglas of Beeta Art Foundation and Beeta Art Festival. The Esther Onwuka who is today the Deputy President of NANTAP. Dr. Rasheeda Liman who only recently step down as HOD the of the Theatre Department at OAU. Hajiya Lantana Ahmed who is waxing stronger and shaking the world of theatre scholarship and performances at 70+. And of course you have the like Eniola Shittu, Oluwaseun Odukoya (Aunty Shine-the Storyteller), the Jemima Angulu of Krump Studios……..
It is for their sake that we are here today, to celebrate their modest contributions tho the performing arts in Nigeria, and to use the opportunity of this year's WTD to address some of the challenges they face. That's why we are here, and thank you, for joining us.
Happy World Theatre Day 2023!
NB: The foregoing is the text of the welcome address delivered by Prince Jerry Adesewo at the Women In Theatre event marking the 2023 World Theatre Day, held at the Korean Cultural Centre Nigeria, Abuja, on March 27, 2023.