The Management of De Choice Fast Food Limited has pleaded for calm, over an incident that occurred at one of their outlet located along Bank Road in Umuahia, Abia State that led to the death of a staff.
In a press release made available to All Facts Newspaper, the Management expressed immense pain and sadness over the incident and the death Izuchukwu Mbakwe and posited that they will do everything within the law to make sure justice prevails on the matter.
Shedding more light on the sad event, De Choice Fast Food Limited stated that the death of Izuchukwu Mbakwe was solely the action of the Abia State Vigilante Service Officer who was as at that time attached to their outlet and has been handed over to the Nigeria Police for investigation.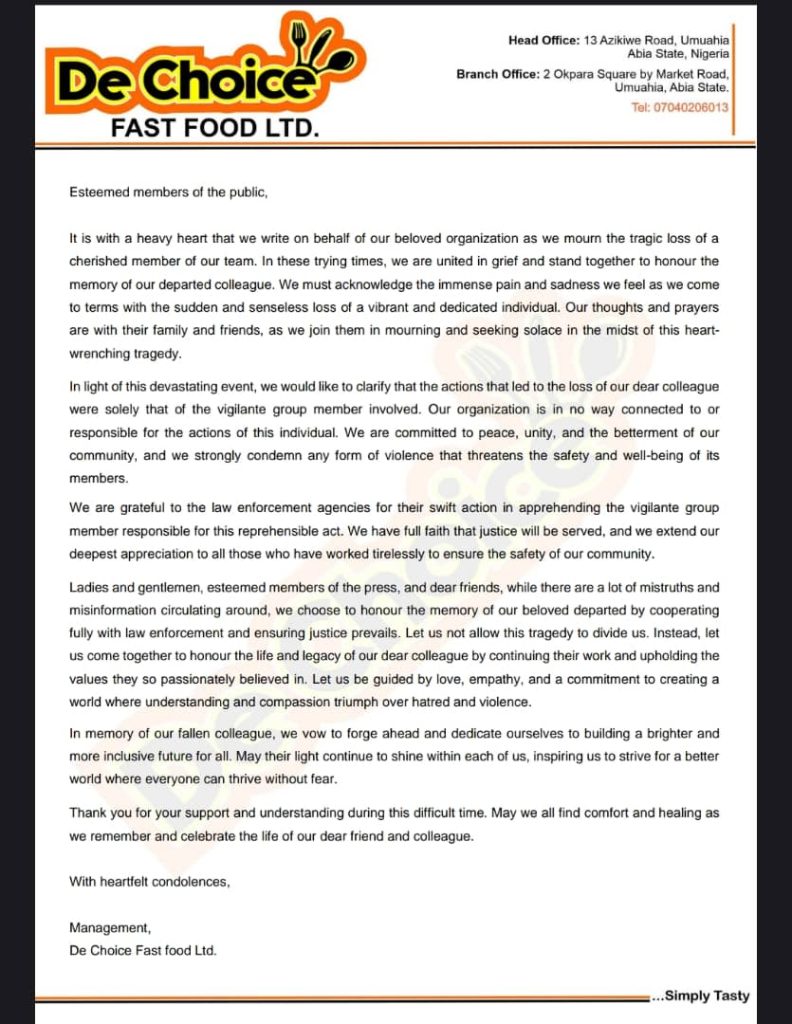 The Management posited that they never at any time authorized the Abia State Vigilante Service Officer to shoot and that they are extremely shocked and devastated by the horrible turn of event.
"Our organization is in no way connected to or responsible for the actions of this individual. We are committed to peace, unity, and the betterment of our community, and we strongly condemn any form of violence that threatens the safety and well-being of its members".
"We are grateful to the law enforcement agencies for their swift action in apprehending the vigilante group member responsible for this and we have full faith that justice will be served. We extend our deepest appreciation to all those who have worked tirelessly to ensure the safety of our
Community".
"Let us stand united and honour the life of our dear colleague. Let us be guided by love, empathy, and a commitment to creating a world where understanding and compassion triumph over hatred and violence".
"In memory of our fallen colleague, we vow to dedicate ourselves to building a brighter and more inclusive future for all. May we be inspired by this tragic event amongst others in our beloved country to strive for a better world where everyone can thrive without fear" they concluded.
It would be recalled that in the past one year, Abia State Vigilante officers have been reportedly involved in various unprofessional acts which greatly questions their professionalism training.
Within this year in question, a Vigilante Officer by name Okorie Chukwuma allegedly killed and stole the Toyota Venza Car of his boss Mr Enyinnaya Ogbonn, a businessman based in the United States of America who returned home to invest in Nigeria and was building a gas station at Ahaba in Isuikwuato LGA of Abia State.