On the heels of the trending news that the pioneer Executive Secretary of Abia State Diaspora Commission, Dr. Ngozi Ogbonna-Erondu was recently honoured with the exclusive 'National Diaspora Merit Award' by the Nigerians in Diaspora Commission, it became imperative to reveal more about this amazingly humble woman whose passion for touching lives has brought succour to many individuals and families.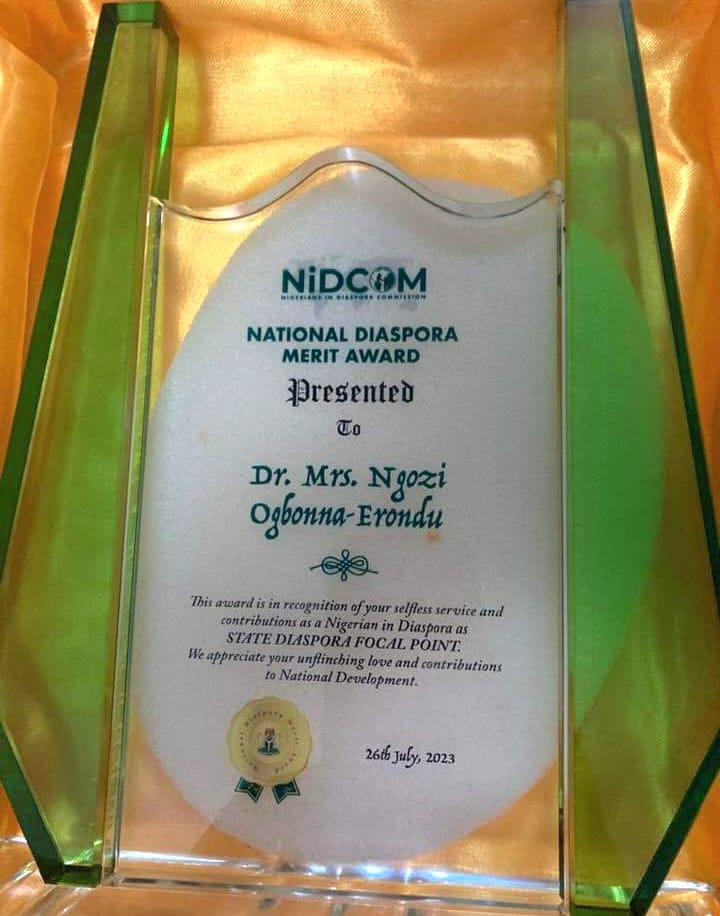 Ngozi Ogbonna-Erondu was born in Owor Ahiafor in Obingwa Local Government Area of Abia State. She is the first child of Chief Joel Onwuka Ogbonna of blessed memory and Mrs. Mercy Ogbonna. After graduating from Ovom Girls High School , Aba, she attended Oakwood College, Huntsville, Alabama where she graduated with a degree in Biology, with a Minor in Chemistry, after which she went on to University of Iowa, Iowa City, USA where she received her Bachelor of Pharmacy and Doctor of Pharmacy degrees. She has lived in the USA for 40 years, and has practiced as a pharmacist in various roles for over 30 years.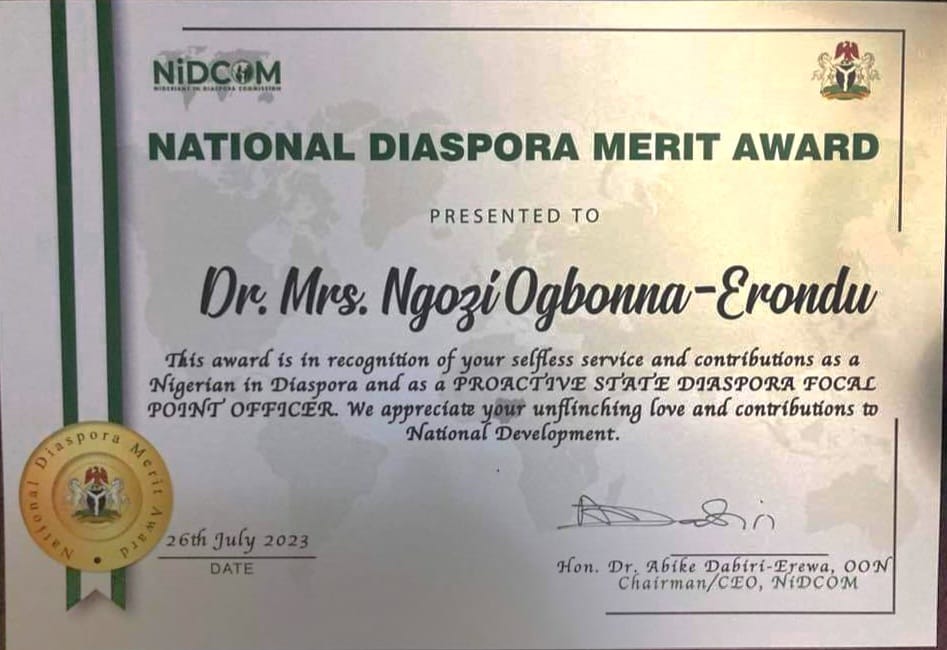 As many have testified, Dr Mrs. Ogbonna-Erondu strongly believes that leadership is not about titles but about sacrifice, service, inspiration and making a difference. She derives her greatest joy from philanthropy and service to others – qualities that were instilled a long time ago by her late father, Chief Joel Ogbonna. Examples of her passion and commitment in that regard are numerous, such as donating menstrual materials, uniforms, shoes, bags, notebooks, etc to primary and secondary school students; renovation of community school buildings; assisting many undergraduates with tuition fees; providing financial and material support to many petty traders and entrepreneurs; aiding many motherless babies homes; providing palliatives to the less privileged, and radical advocacy for educational empowerment, with particular emphasis on the values of girl-child education.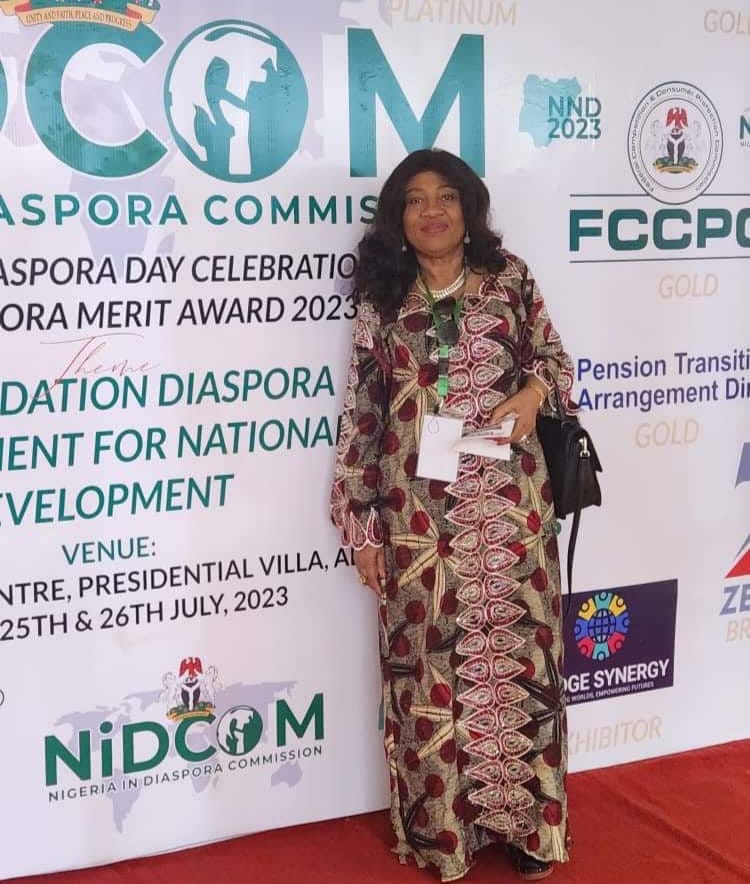 Her zeal to serve and contribute to the development of Abia State led to her appointment in 2016 as Coordinator of the Abia State Diaspora Brain Trust by Dr Okezie Ikpeazu, the Executive Governor. In June 2019, she was appointed Special Adviser on Diaspora Matters and Special Duties during which she re-vitalized the Diaspora Office with her innovative mindset.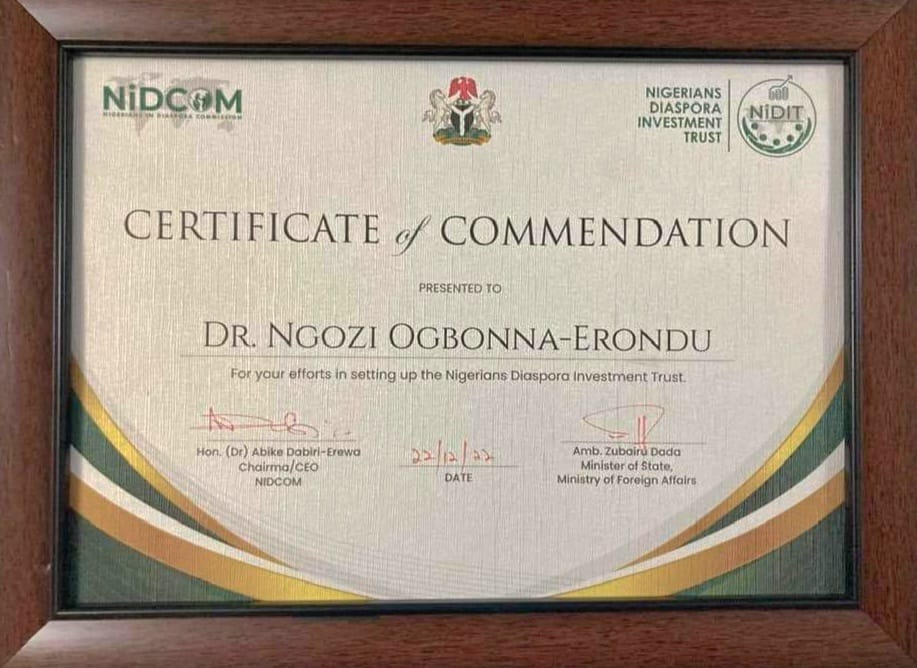 The creative dynamism she exhibited in her evident capacity to drive the process of actualizing Governor Ikpeazu's vision of diaspora renaissance for Abia, led to her appointment in December 2021 by the Governor, and subsequent confirmation by the Abia State House of Assembly, as the first Executive Secretary/CEO of the Abia State Diaspora Commission.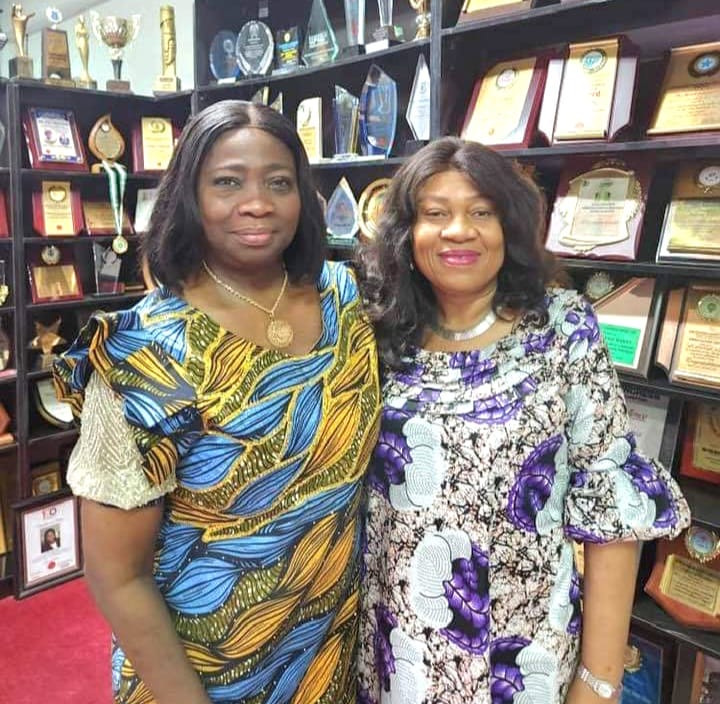 Her key achievements included: Establishing a dedicated and furnished Diaspora Office in Government house; Facilitating the passage and signing into law of the Abia State Diaspora Commission Bill, making Abia the first State in Nigeria to have a statutory Diaspora Commission; Facilitating the donation and delivery of containers of medical equipment worth over 2 million dollars from Project C.U.R.E.; Hosting the first ever Abia State Diaspora Summit and Reunion – which attracted the presence of many eminent personalities, including Prof Mamokgethi Phankang, Vice chancellor of University of Cape Town, South Africa; and Hon. Abike Dabiri-Erewa, Chairman/CEO, Nigerians in Diaspora Commission. Dr. Ogbonna-Erondu served as a Member of the Board on establishment of Nigeria Diaspora Investment Trust Fund; Coordinator of the Committee for Actualization of Abia Diaspora Land Development approved by the Governor; and Coordinator for the First Children's Hospital in Abia state. In all, she contributed immensely to inaugurating a pragmatic template for the future of Abia State Diaspora Commission.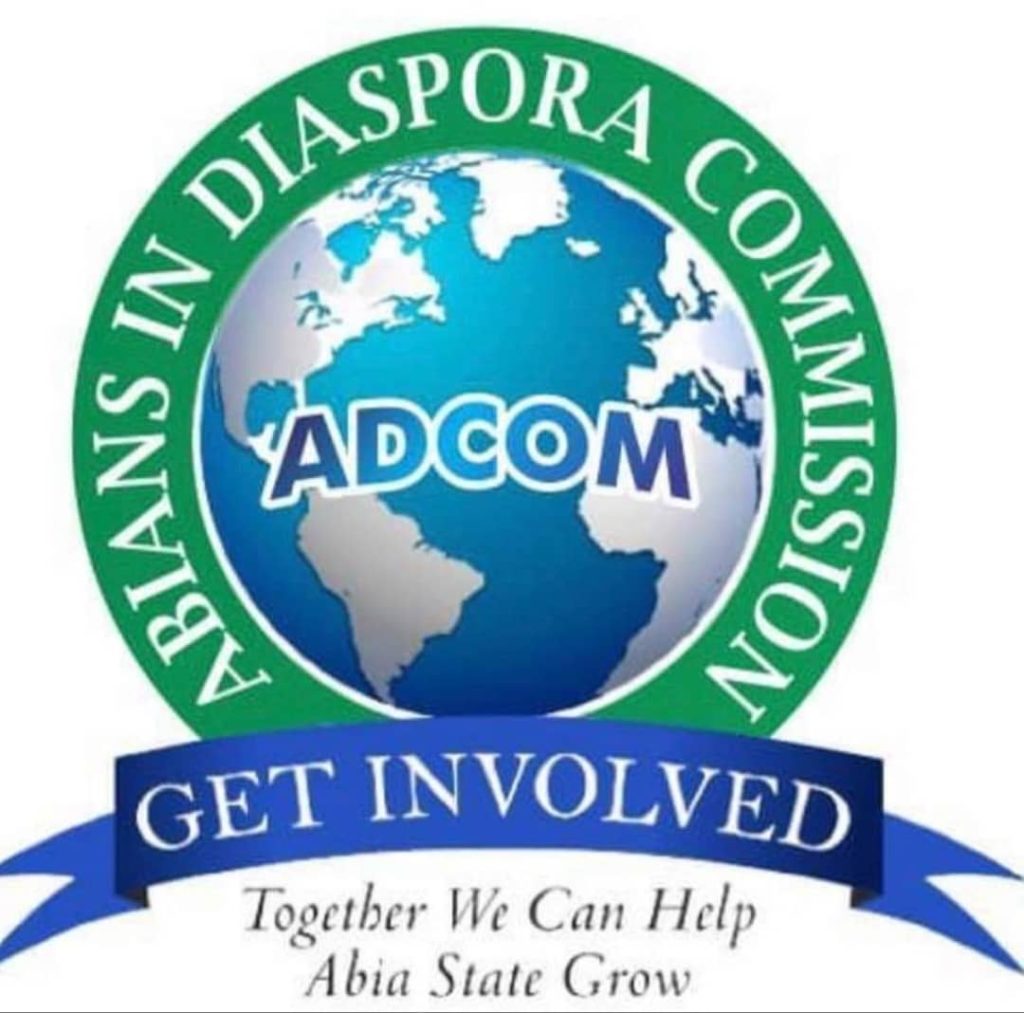 A totally accomplished woman with incredible humility, Dr. Mrs. Ngozi Ogbonna-Erondu is happily married to Dr. Ngozi E. Erondu, MD, PhD; a Physician Scientist from Umuocheala, Isiala Ngwa South LGA, Abia State and the marriage is blessed with 4 gifted children: Dr. Mgbechi Erondu, MD, MFA – a writer, paediatric anaesthesiologist and palliative care specialist; Dr. Chioma Erondu, MD, MPH – an obstetrician gynaecologist and preventive medicine physician; Dr. Ngozi Alozie Erondu, DDS – a Resident Dentist in Oral and Maxillofacial Surgery, and Dr. Ihuoma Erondu, MD – a Resident Physician in Psychiatry.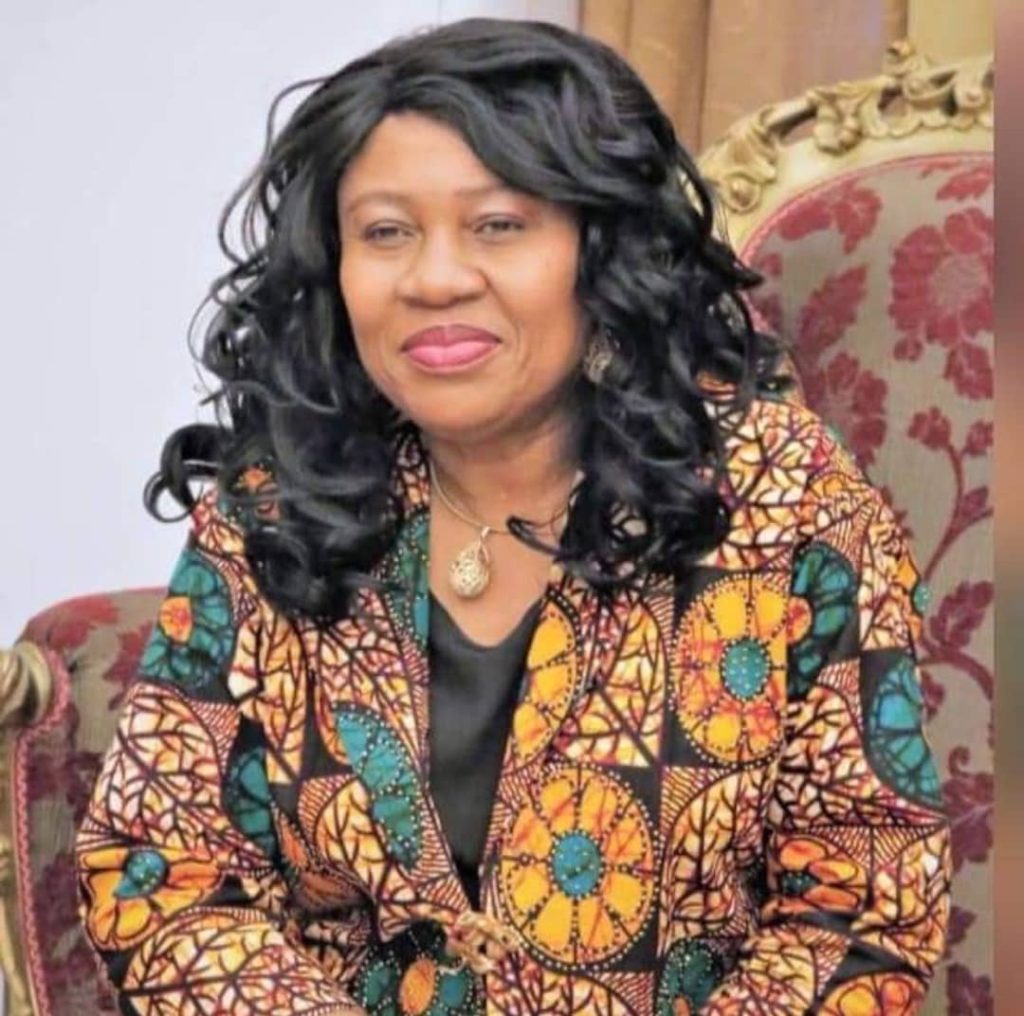 Her special honour with the 'National Diaspora Merit Award' by the Federal Government through the Nigerians in Diaspora Commission is a significant tribute for two major reasons: she is the first and only State Diaspora Focal Person to be bestowed with the high-class Award; and it further underscores, in concrete historical context, the fact that the Ikpeazu administration silently pioneered unique social innovation breakthroughs in the overall interest of Abians, for which posterity would continue to applaud the administration and its faithful goodwill ambassadors beyond tenure of office, prominent among whom is Dr. Ngozi Ogbonna-Erondu.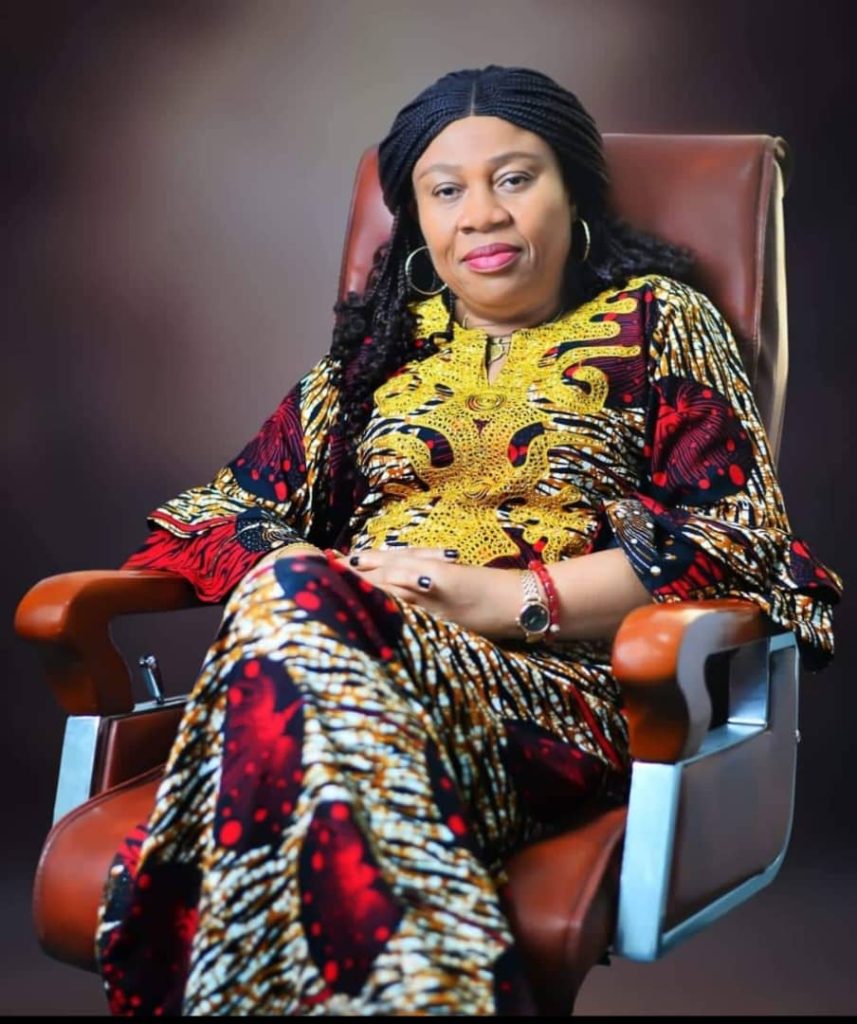 In his congratulatory message to her, former Govenor Ikpeazu remarked that "Ngozi was more than a Diaspora Abian. She was extremely passionate and showed unparalleled devotion to her assignment. I had a robust vision for Diaspora engagement where our sons and daughters who live outside the shores of our country will find an official platform to make contributions to the growth of our State. Ngozi gave more life to that vision as the collaboration with our people abroad got the needed push and the results are there for everyone to see. I am delighted that her tenacity and hard work have received the needed national acclaim. It is even more gratifying to note that she is the only State Diaspora Lead out of 36 others to receive the Award."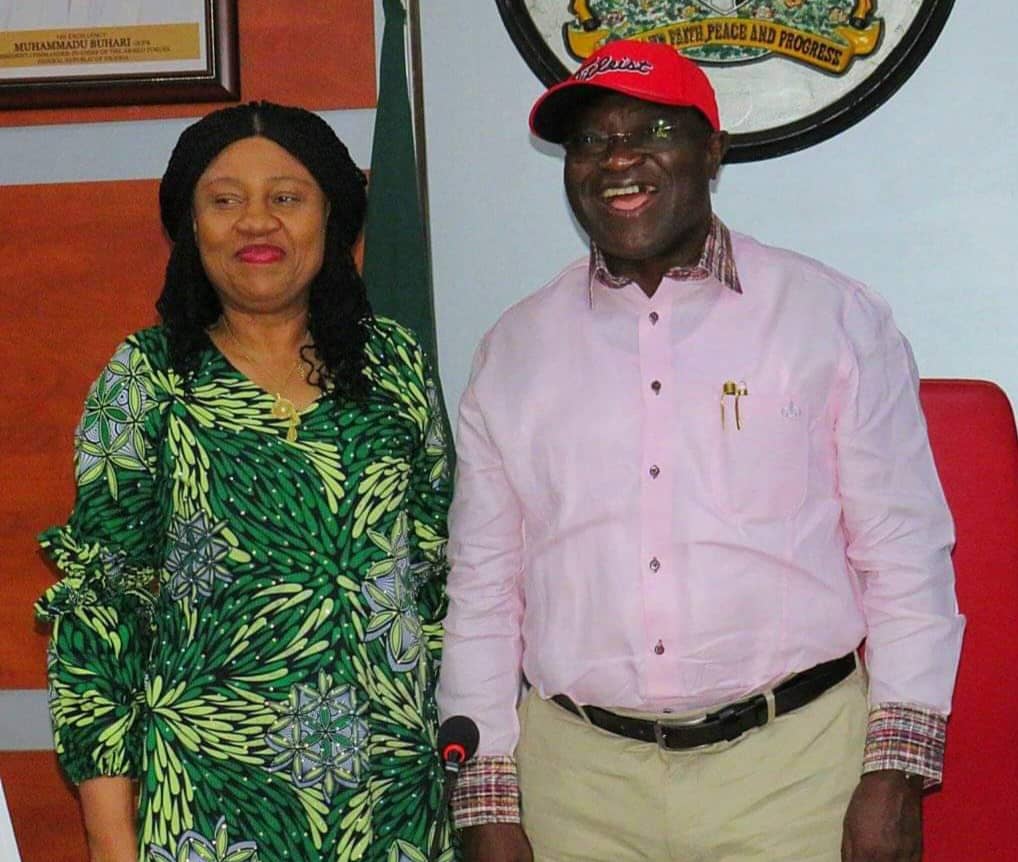 Not a few persons have urged Dr. Ogbonna-Erondu to document her experience in a compendium that may become a resource guide for the Abia State Diaspora Commission and related agencies at national and global levels.