The maiden Abuja International Theatre Festival and Awards is set to kick off in Abuja, Nigeria's capital city, on Tuesday, October 31st, 2023.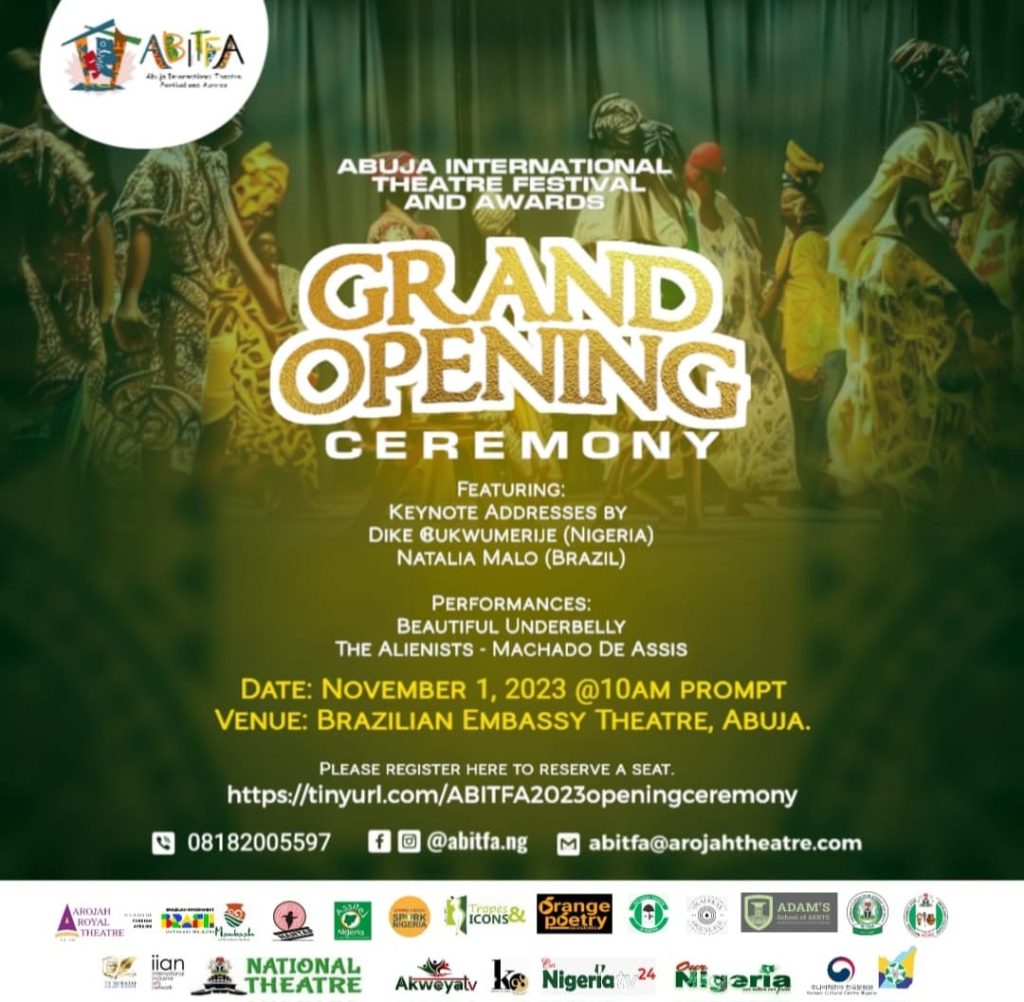 ABITFA 2023, with the theme: 'Performing Arts, Peacebuilding and the Society', is designed to celebrate diversity, share cultures and experiences, and promote peaceful co-existence all over the world, through theatre. It is conceived specifically to celebrate the best of theatre, is an international platform where theatre lovers could attend and watch performances, and where artists from all over the world share artistic excellence, innovation and explore the intersections between various theatrical genres.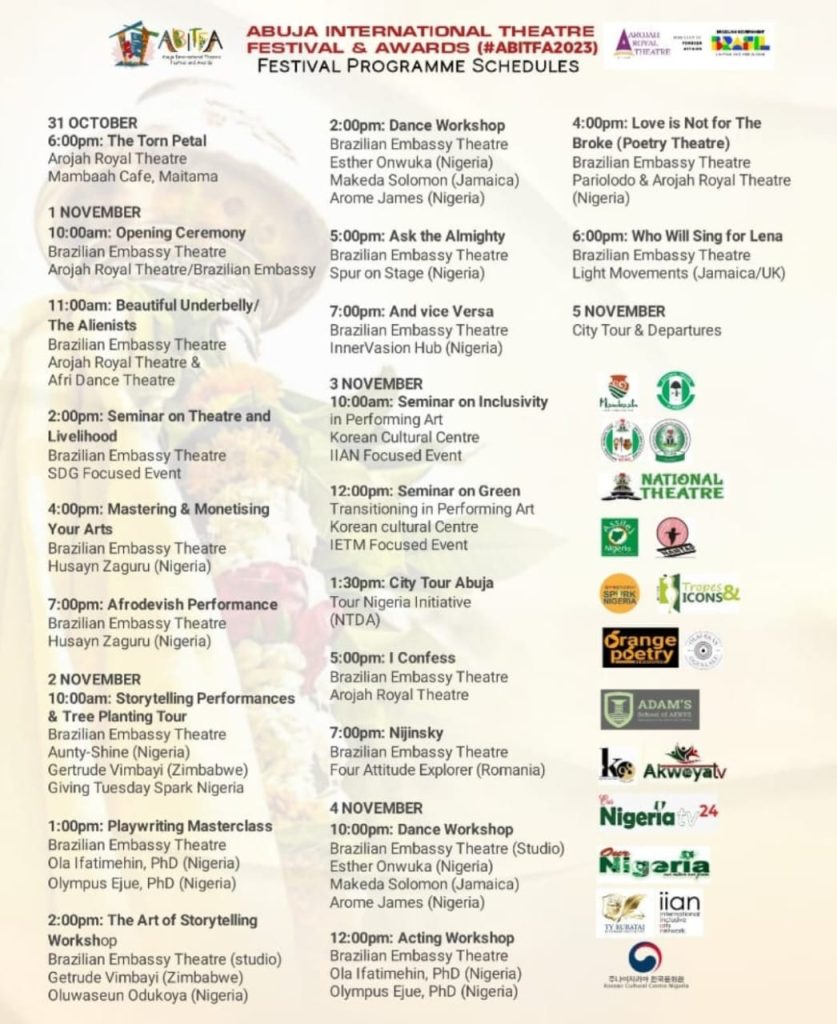 OPENING CEREMONY
The opening ceremony, under the chairmanship of former Chief of Army Staff, General TY Buratai (RTD), is expected to also have in attendance, Minister of the Federal Capital Territory, Barrister Nyesom Wike is expected to lead crop of other invited guests, industry players and diplomatic community, to declare the festival open. The opening ceremony will feature Keynote Addresses by Dike Chukwumerije (Nigeria), Natallia Mallo (Brazil), Alex Borovenskiy (Ukrane) who will each share their thoughts and experiences on the theme of the festival: Performing Arts, Peacebuilding and the Society.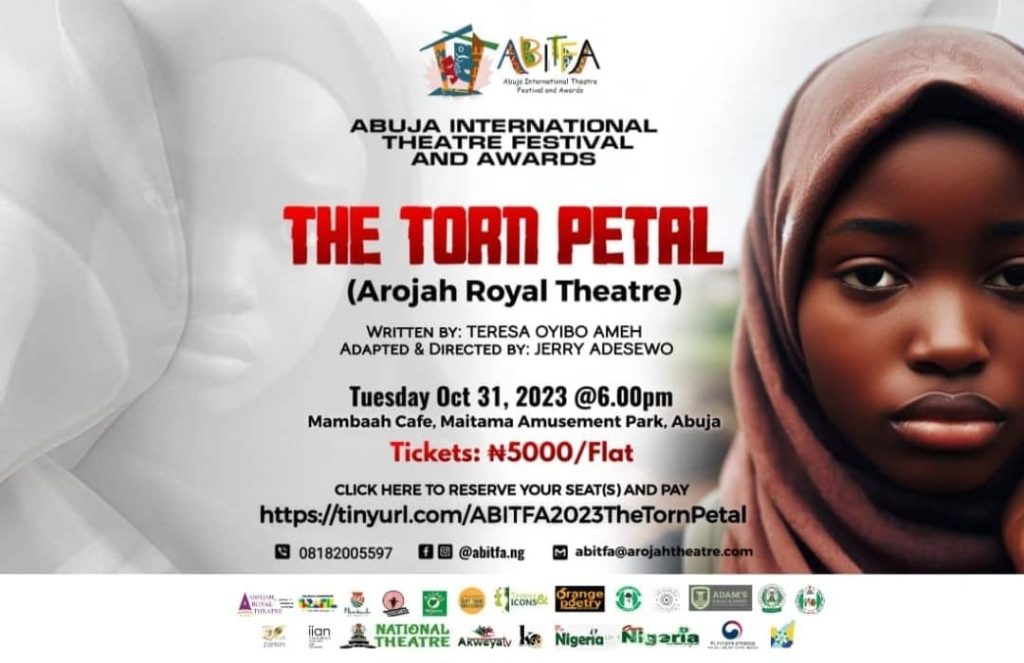 PERFORMANCES
The 5-day festival will welcome on stage a total of 10 shows, beginning with a stage adaptation of Teresa Oyibo Ameh's novella, The Torn Petal, at the Mambaah Cafe on Tuesday October 31. Other shows include: The Alienists, a Machado De Assis novella, adapted for the stage by the Arojah Royal Theatre; AfroDervish Performance by Husayn Zaguru on November 1; And Vice Versa by Innervasion Hub; Ask the Almighty by Spurs on Stage and I Confess by the Arojah Royal Theatre.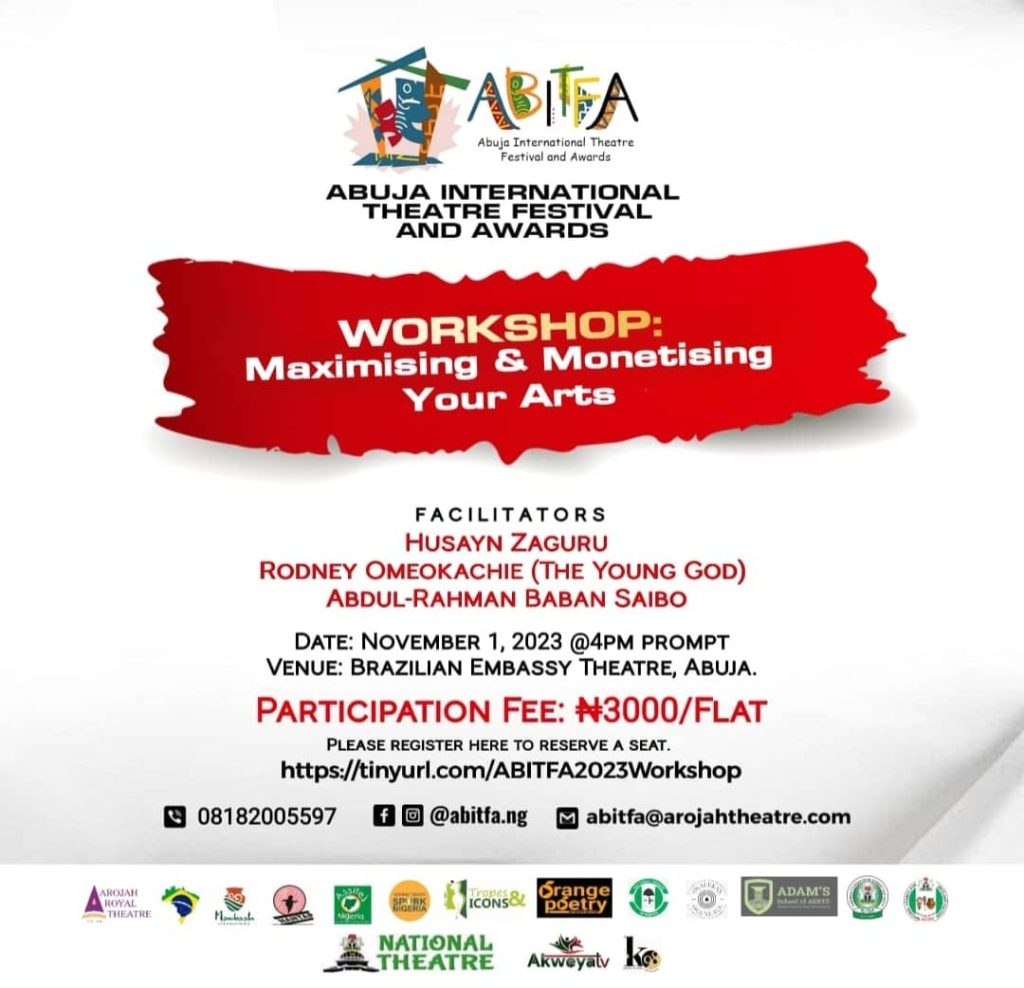 Three international guest performances, Nijinsky from Romania, Who will Sing for Lena from Jamaica/UK and Love At Times from Ukraine. While Nijinsky and Who will Sing for Lena will be staged live at the Brazilian Embassy Theatre, Love at Times will be streamed live from Kyiv, Ukraine.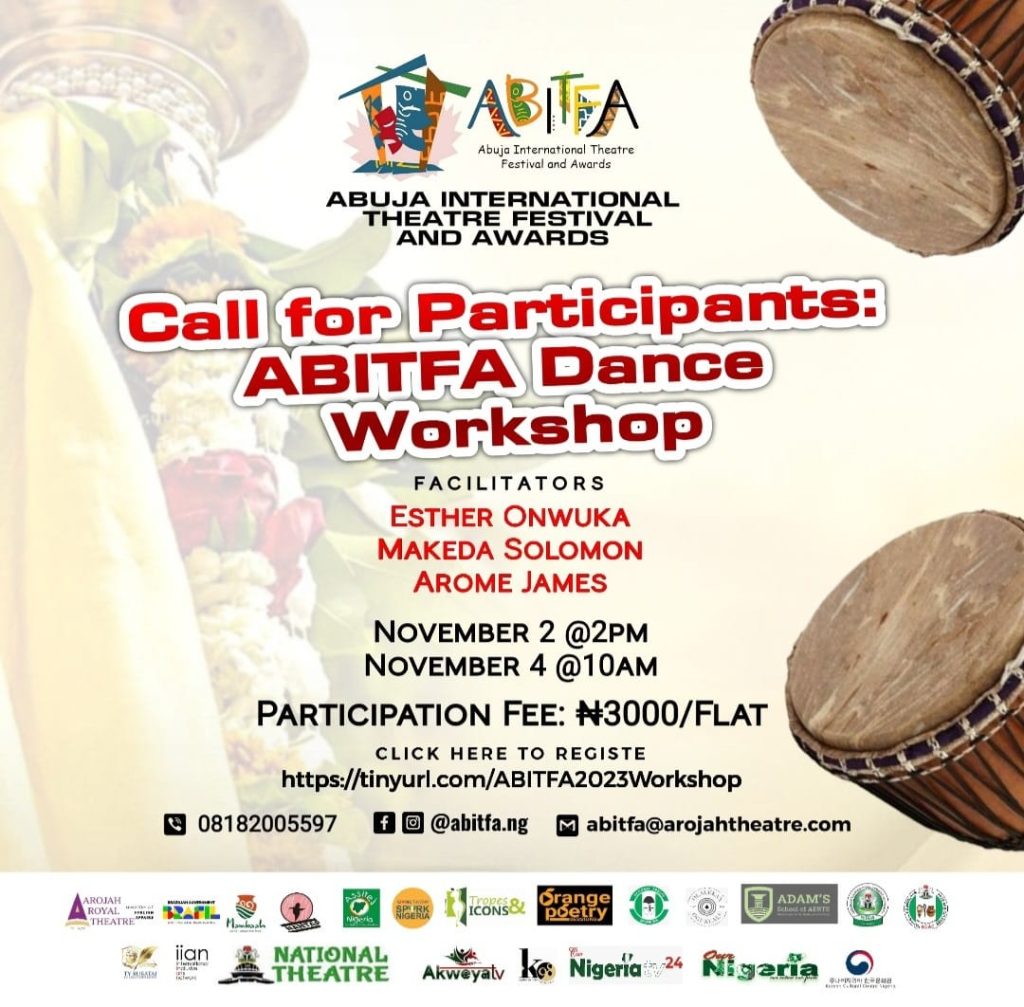 PROFESSIONAL PROGRAMMES
The festival will also feature a handful of professional programmes, such as workshops and panel discussions. A playwriting and Acting Masterclasses to be delivered by Dr. Olympus Ejue of the University of Abuja and Dr. Ola Ifatimehin.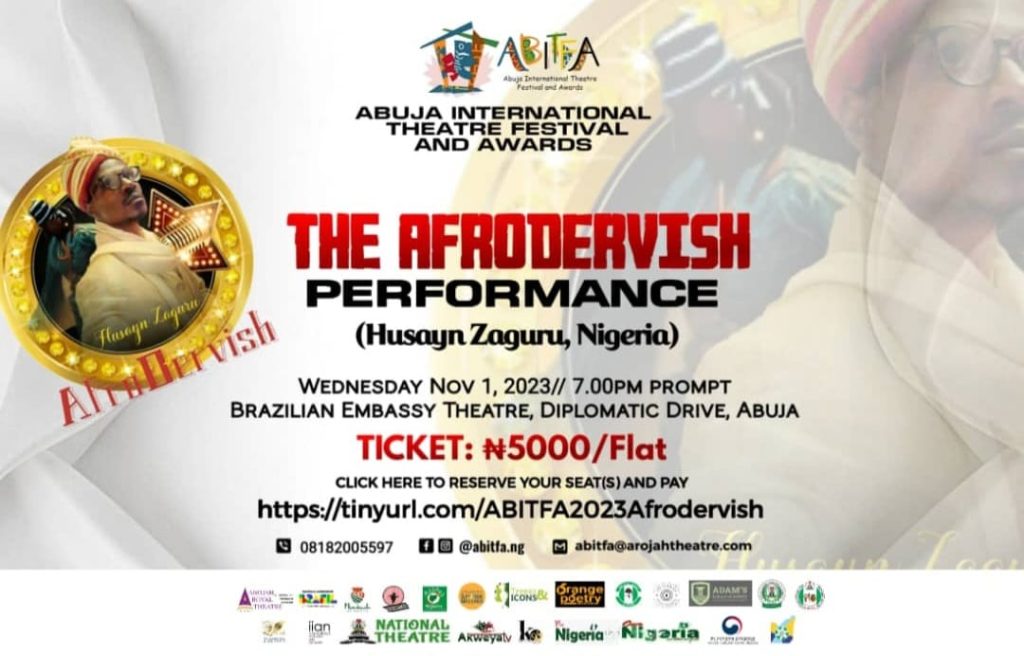 Dance workshop by Esther Onwuka, James Arome and Makeda Solomon (Jamaica).
The Art of Storytelling workshop by Oluwaseun Odukoya (Aunty Shine the Storyteller) and Gertrude Munhamo (Zimbabwe)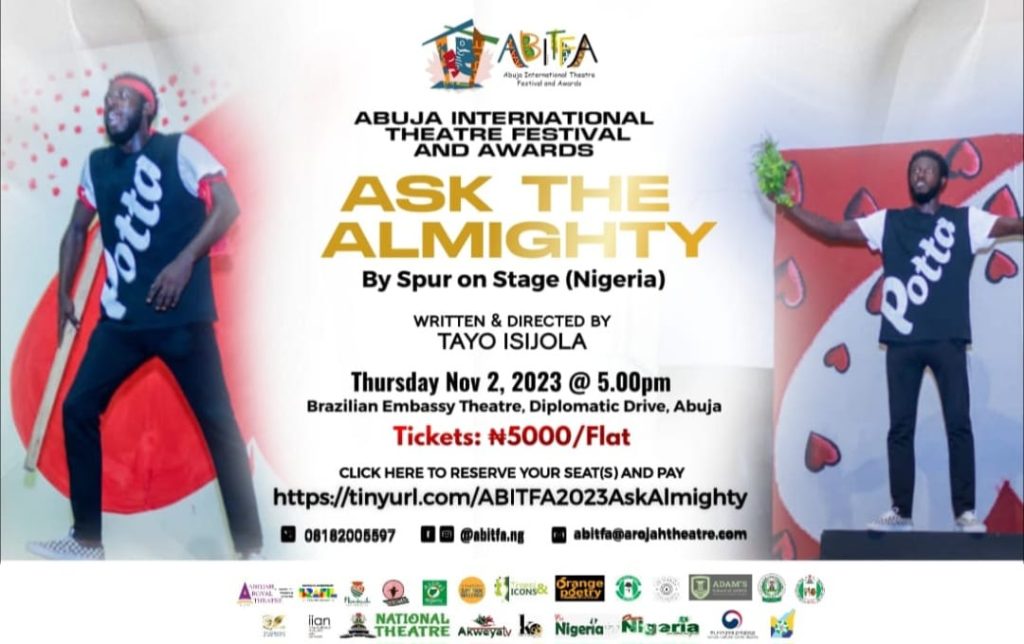 Maximising and Monitising your Arts workshop by Husayn Zaguru, Rodney Okeokachie, and Abdul-Rahman Baban Saibo;
Two panel discussions: Theatre and Livelihood with Patrick Otoro of Rivers of Water Production, Dr. Tayo Isijola of the federal university Oye Ekiti, and Dr. Viviane Juguero (Brazil).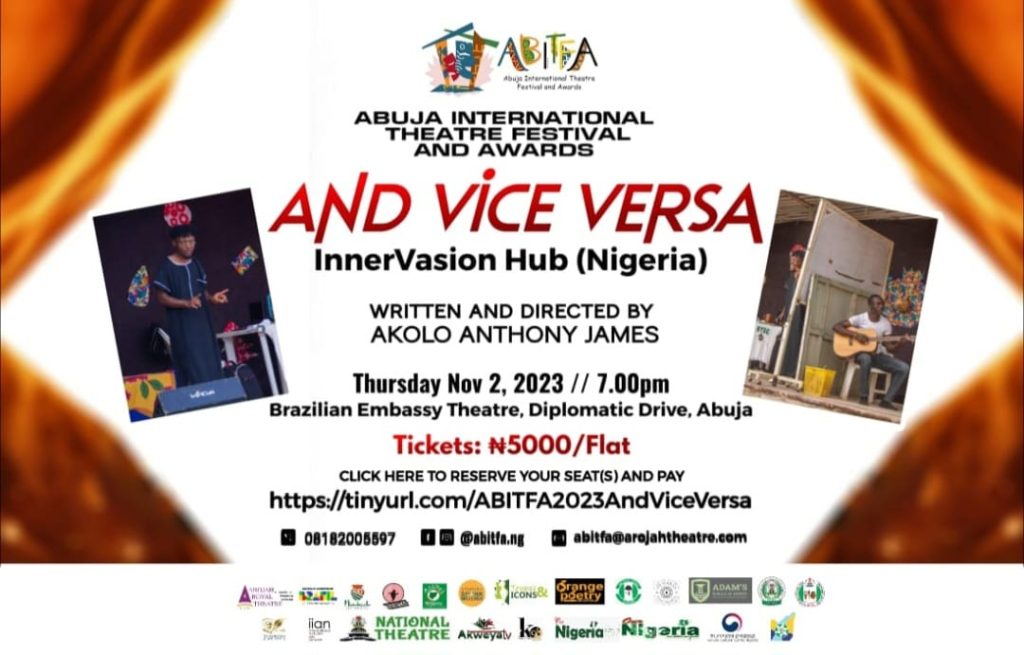 This includes an IIAN/ASSITEJ Focused session featuring a panel session on Inclusiviy in the Performing Arts with Dr. Tosin Tume of the Federal University, Oye Ekiti;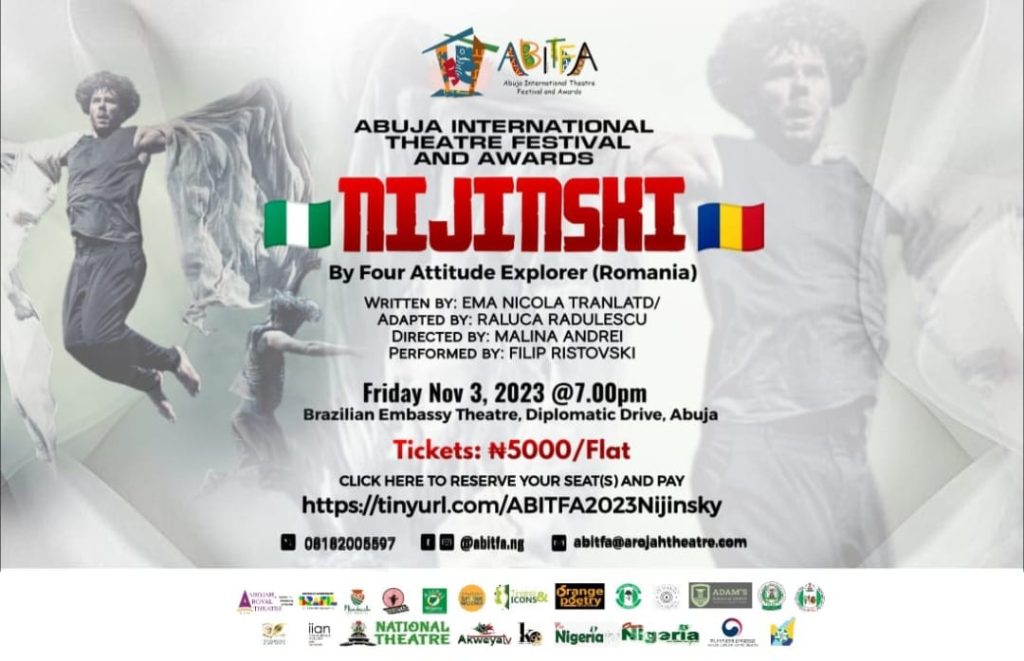 AND THE WINNERS ARE
On Wednesday, winners of our various competitive activities will be announced and presented with their awards. Below are the shortlist from each category: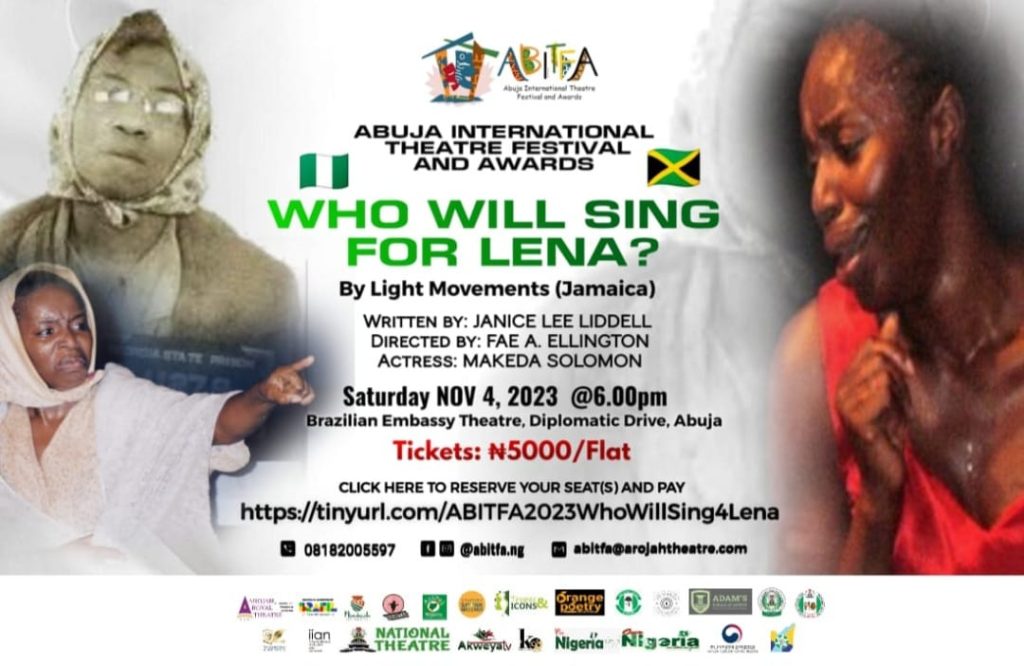 The Arojah Student Playwriting Prize
Shortlist
All We Seek by Tobi Oladeji
The Bridge of Oneness by Titilope Mogaji
Bound by Choice by Praise Ebirim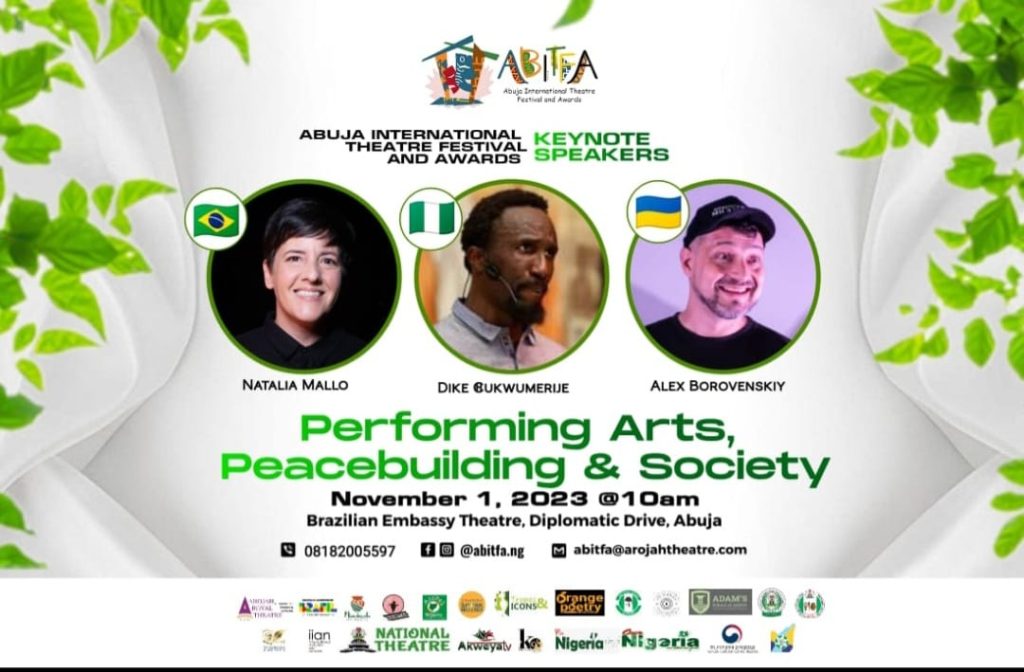 ABITFA BIODUN ABE SCENOGRAPHY PRIZE
Edet Eset
Mayowa Damilare
Dr. Olusegun Abodunrin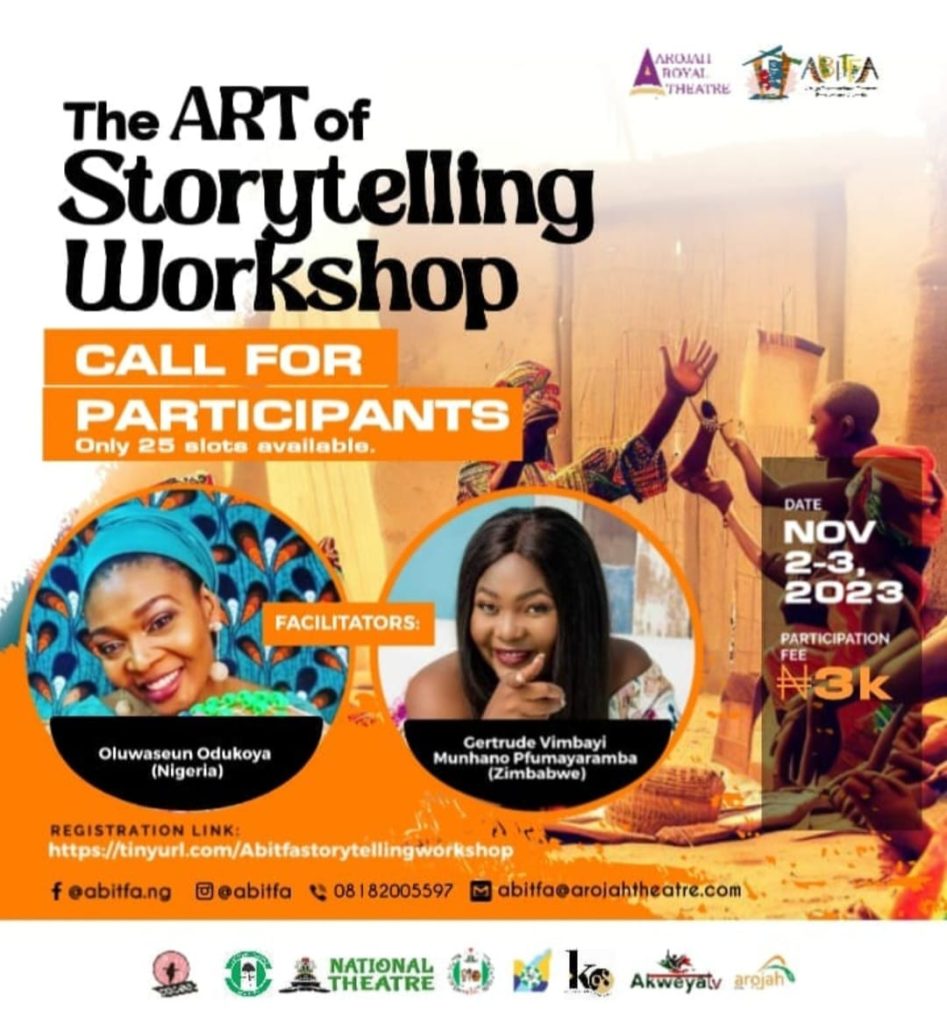 ABITFA/OLALEKAN OGUNLALU THEATRE BILL PRIZE
Odenigbo – Obizoba Christopher Chibuike
Bolobolo – Ona Eki
Morountodun – Hamidu Adebayo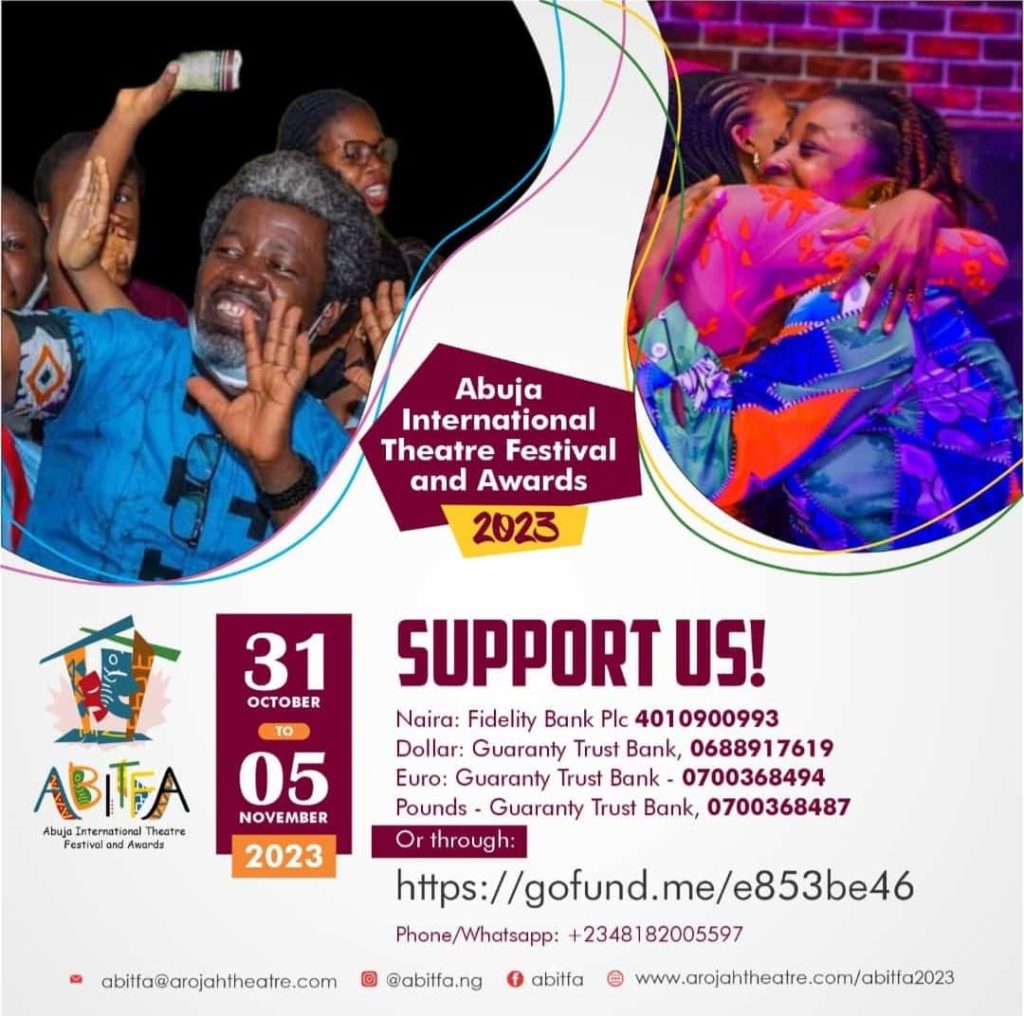 AWARDS OF HONOUR
A handful of professionals and others in the field of theatre practise have been earmarked to receive special recognition award at the festival, and they include: The DG of NCAC, Otunba Olusegun Runsewe; CEO of the National Troupe, Alhaji Ahmed Mohammed Ahmed; veteran playwright and theatre maker, Ben Tomoloju, CEO of the Heritage Africa Village Square, Mr. Moses Ayom, Spoken Word poet and lawyer, Dike chukwumerije, scholar and former Commissioner for Culture in Nassarawa State, Hajiya Lantana Ahmed,
Ukrainian theatre maker, Alex Borovenskiy and former Chief of Army Staff, Ambassador T.Y. Buratai among others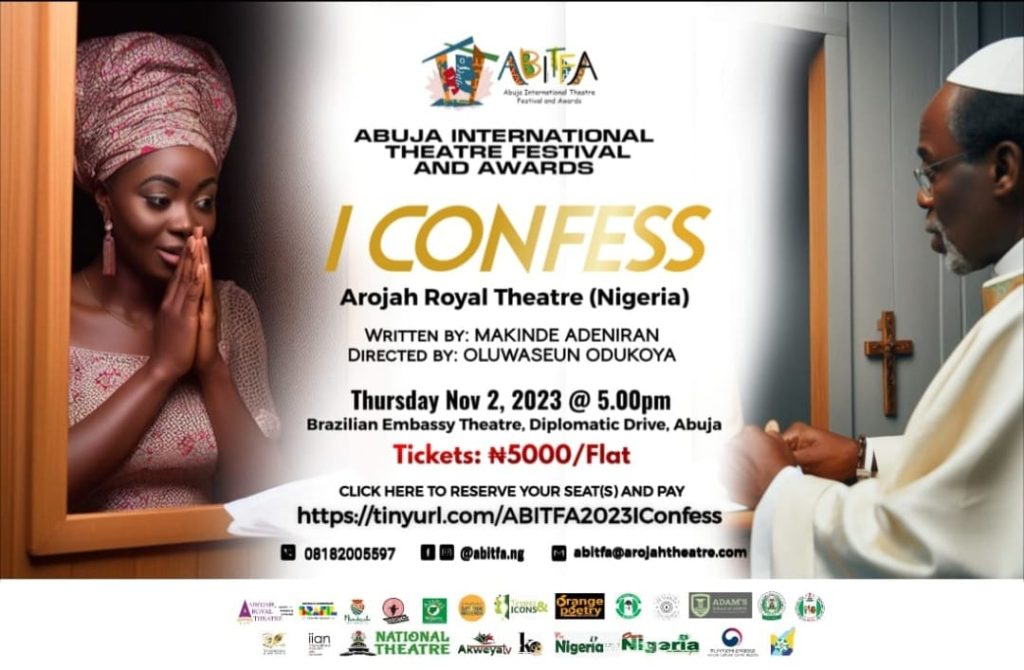 The festival will hold on annual basis in the month of November
Signed:
Om'Oba Jerry Adesewo
Festival Director