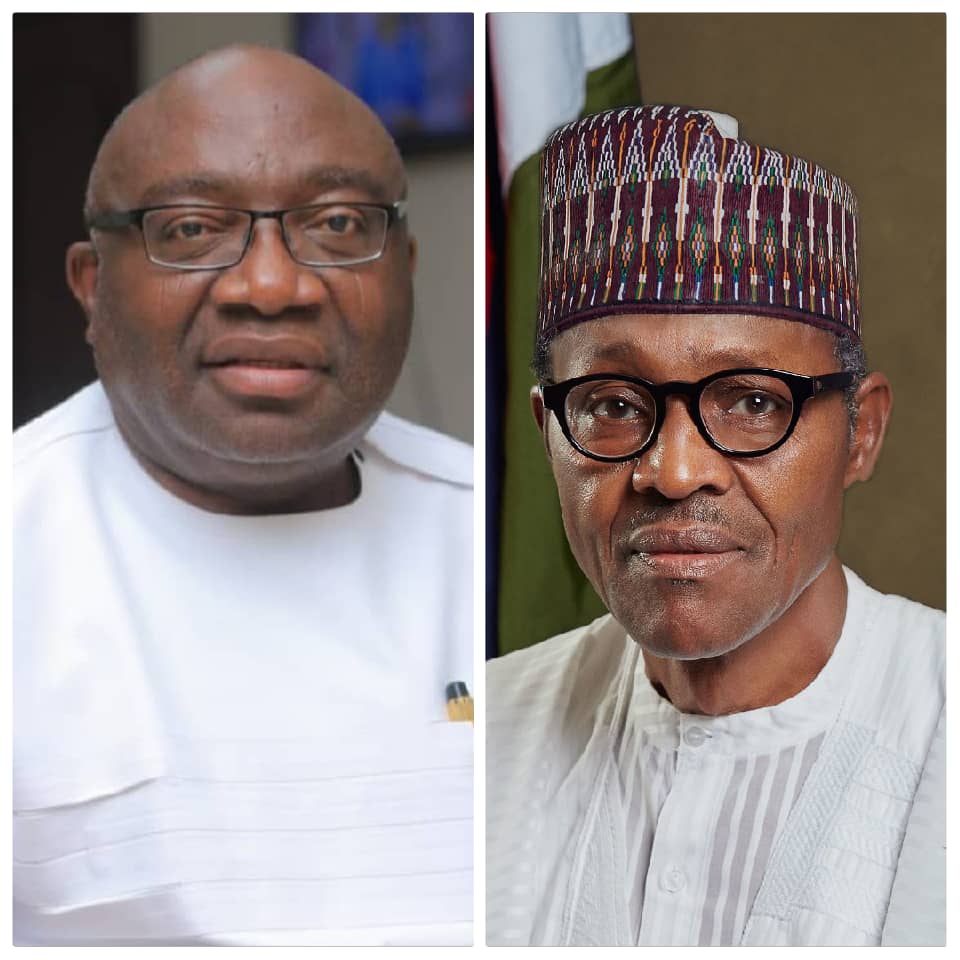 PGI/PMB/25/05/23.
May 25,2023
His Excellency,
Muhammadu Buhari, GCFR,
President of the Federal Republic of Nigeria,
Aso Rock Presidential Villa,
Abuja
Your Excellency,
PASSIONATE INTERCESSION FOR COMPASSIONATE RELEASE OF MAZI NNAMDI KANU
My fervent prayer is that this letter finds you in sound health and good spirits, especially amidst numerous activities signaling the end of your eight year term as the 15th President of the Federal Republic of Nigeria.
At this twilight of your eventful tenure, may I respectfully request you to benevolently hearken to several calls from many eminent personalities and groups, from within Nigeria and in the diaspora, to leverage your constitutionally empowered prerogative of mercy and graciously release Mazi Nnamdi Kanu, as a final parting gift to Ndigbo.
While completely associating myself with the last appeal on the same subject made by our Elder Statesman and current President-General of Ohanaeze Ndigbo Worldwide, Engr. Dr. Emmanuel Iwuanyanwu, and having just been appointed member of the Presidential Advisory Council of Ohanaeze, it is my firm conviction that you will merit a place of honour in the Igbo Hall of Fame by accenting to these requests.
The Igbo people have always been an integral part of Nigeria's history, considerably contributing to its growth and development. However, it is no secret that Ndigbo have a deep-seated sense of disillusionment, which has been exacerbated by Mazi Nnamdi Kanu's prolonged imprisonment.
It goes without saying that advertently or inadvertently, Mazi Nnamdi Kanu has come to represent the hopes, frustrations, and grievances of many Igbo people. While I acknowledge that there have been concerns regarding some of his actions, inactions and rhetoric, it is essential to remember that dialogue and engagement are preferable to protracted detention for addressing such issues.
By releasing Mazi Nnamdi Kanu, you have the chance to demonstrate magnanimity, statesmanship, and to cultivate an inclusive attitude among the Igbo people. It would demonstrate that, under your leadership, the Nigerian government values the concerns and aspirations of all its citizens, regardless of ethnicity.
In addition, the release of Mazi Nnamdi Kanu would promote national healing, reconciliation, and unity as Nigeria proceeds forward. As we strive to construct a stronger, more prosperous nation, it is imperative that we address the underlying issues that have contributed to the growing unrest and disunity in certain regions of the country.
The release of Mazi Nnamdi Kanu would not only be viewed as an act of benevolence, but also as a crucial step toward national integration, especially in view of the present political distribution of offices for the incoming administration, which currently doesn't favour Ndigbo. Your magnanimity will therefore serve as a beacon of hope, demonstrating to the Igbo people that their concerns are being addressed and their hope for a fair and equitable Nigeria is possible and definitely realizable.
Your Excellency may wish to recall that our history is inundated with cases of activists who after receiving similar privileges are currently contributing to the growth of society. Worthy of mention are such citizens as Asari Dokubo, Government Tompolo and Sunday Igboho, who subsequent upon release from detention have integrated and realigned themselves back to the societal task of nation building. It is on record that the relative peace currently pervading the Niger Delta region is traceable to the stabilizing efforts of the former activists.
Your anticipated magnanimity to Mazi Nnamdi Kanu will surely extend similar narrative to troubled sections of the South East region.
It is therefore my suggestion that you graciously hand over Mazi Nnamdi Kanu to a special team made up United Nations representatives and Ohanaeze Ndigbo leadership, as a crucial component and climax of activities marking your valedictory.
As a Royal Prince of the Ossah Ancient Kingdom in Abia State, Mazi Nnamdi Kanu will be a befitting replacement on the traditional throne which has remained vacant since the death of his father in 2019.
Let me thereby assure you that the release and subsequent enthronement of Mazi Nnamdi Kanu into the vacant throne of his father during this auspicious season of embracing the new government of Dr Alex Otti in our dear state Abia will definitely usher in a season of renewed hope and breath of fresh air, while signalling great possibilities of reintegration of Ndigbo into the Nigerian nation.
Your Excellency my dear President, during his fleeting moments before passing on to the great beyond, our late sage Chief Mbazulike Amaechi passionately made similar appeal to you as a dying request.
As a protege of Chief Mbazulike Amaechi please permit me to re-echo that fervent request knowing that your accent will surely grant his soul final repose in death.
I trust that you will favourably consider this entreaty with the utmost sincerity and compassion as your term concludes, as I pray that in the face of adversity posterity remembers your administration for pursuing equity, fairness, and unity.
Receive assurances of my sustained support, loyalty, commitment and dedication to the ideals of nationhood.
Prof Gregory Ibe, PhD, OFR (Enyi Abia, Erim Ndigbo)
Member, Ohanaeze Ndigbo Presidential Advisory Council