The National President, DT. Israel Eboh's 3-days working visit to Abuja was concluded today 25th August, 2022.
While in Abuja, the President, accompanied by his Deputy, DT Esther Onwuka and National Director of Media, Omo'ba Jerry Adesewo paid a courtesy visit to the new Director of the Korean Cultural Centre, Mr. Chang Kim during which both parties agreed on various collaborative ideas which include but not limited to:
participation in the forthcoming National Convention of NANTAP
Strengthening the creative economy in Nigeria through capacity building for practitioners
conclusion and signing of the MOU on cultural exchange between NANTAP and the Republic of Korea commenced in 2021
On the second day of his visit, the NANTAP team made a stop at the Shehu Musa Yar'adua Foundation where the President had a meeting with the newly appointed Director General of the Foundation, Dr. Polly Alakija and her predecessor, Mrs Jackie Farris.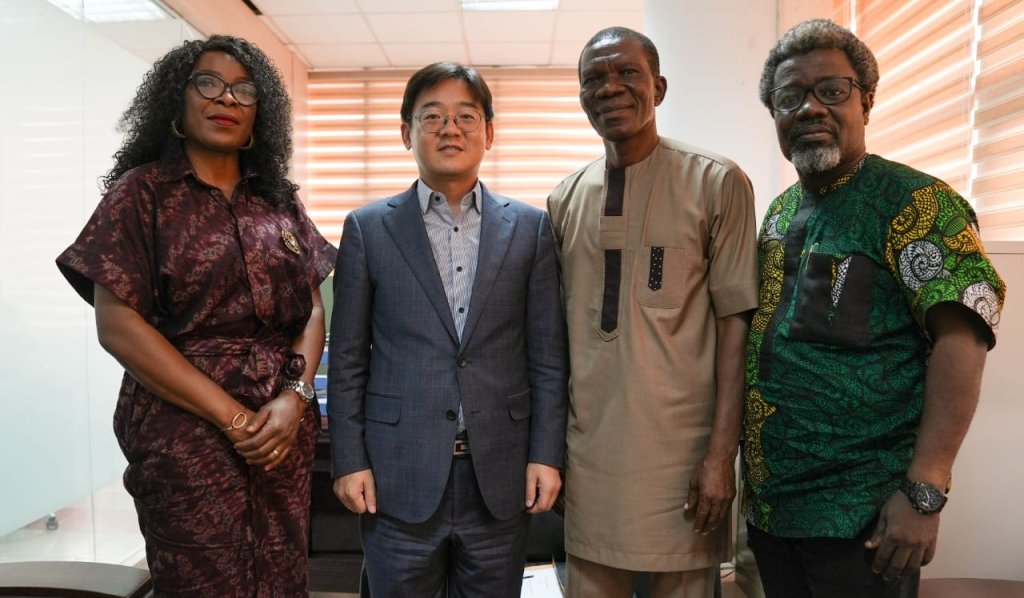 Dr. Alakija shared her dream for the Foundation, and her willingness to incorporate art and culture into the programming of the Centre. The President in appreciating this bold step being taken by the Foundation, expressed a willingness to collaborate with the foundation particularly in the area of policy formulation that can help make the theatre and the arts more viable in Nigeria.
Before taking a tour of the facilities, a working agreement between NANTAP and the Yar'adua Foundation was reached in principle for a policy making conference targeted at capacity building for policy makers in the cultural sector in Nigeria, with particular interest in evolving a new cultural policy and a consciousness that promotes Nigerian Theatre as a tool to promote new Narratives.
While the meeting with the Embassy of Brazil could not hold due to other engagements that took the Ambassador out of Abuja, NANTAP President visited the National Council for Arts and Culture where he met briefly with the Director, Performing Arts, DT. Sam Agbi. They discussed NANTAP's possible role in the forthcoming National Arts Festival (NAFEST) which is scheduled to hold in Lagos this November.
The President equally visited a couple of venues such as the Transcorp Hotel, National Universities Commission, Merit House and of course Yar'adua Centre as possible venues for the Obey @80 project, a Fezi Productions initiative, in partnership with NANTAP and other partners.
The President has since returned to his base in Lagos.
Omo'ba Jerry Adesewo
Nat. Dir. Media & Publicity