The 1986 World Cup held in Mexico, will always be remembered for so many reasons, prominent amongst them is the 'Hand of God' goal by the Argentine captain, Diego Armando Maradona. Remember his famous quote, "The goal was a little with the head of Maradona, and a little with the hand of God". That goal was significant because without it, the South American country would not have won that tournament. It was also because of that goal and similar incidents, that made FIFA to invest in reserach and eventually came up with Video Assistant Referee (VAR) after several years. Before the advent of VAR, teams do everything, including those not in the books to win matches.
Same thing happens in politics. Candidates and political parties do everything to win elections and in the case of Nigeria, it is a matter of, do everything to be declared the winner and let your opponents approach the court. We have heard stories where a returning officer was asked to declare someone the winner of an election at gun point. That is how desperate some of our politicians can be.
Again, there is an old trick in the bag, which politicians use and it is gaining momentum in the country. It is a strategy used by politicians, especially those in power or those who have previously embezzled public funds, to weaken the opposition within it's own internal mechanism. Here, the politicians sponsor fresh people to decamp to another political party or find and empower old members of a political party to cause rancour within their party.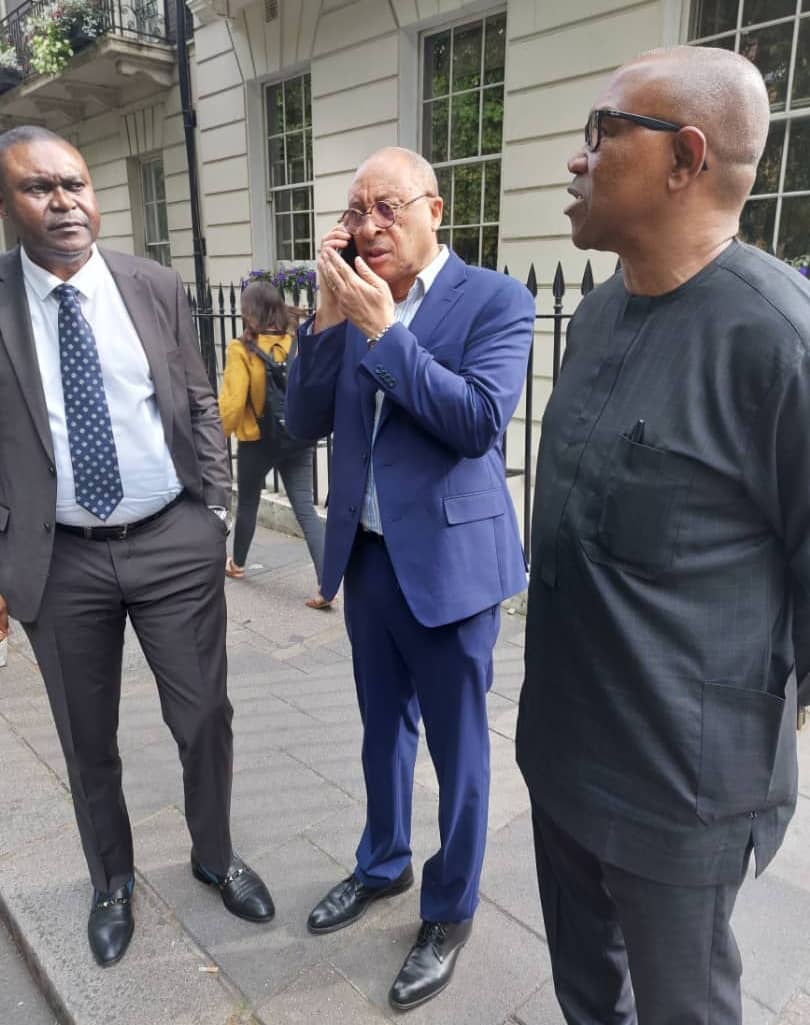 In the corporate financial world, such action is called insider dealings. It is also used underworld by criminals. For instance, in robbery and kidnapping operations, it has always been discovered that, most crimes become successful because there are informants within and around the crime scenes.
It was therefore not a thing of surprise for political observers who witnessed the recent outburst by some members of the Labour Party being used to throw spanner in the wheel of progress, because Peter Obi and Ahmed Datti's presidential and vice presidential ambitions have turned into a hurricane, sweeping across the length and breathe of Nigeria, touching base with all the nooks and crannies of the most populous black nation in the world.
The PDP and APC are shaken by the turn of events in the country's political landscape, within a very short period and therefore will try everything humanly possible, even those not in the political books, to put a stop to the wind of change crisscrossing the country. Unfortunately, it is a known fact that one who stands in front of a train to stop it will get crushed instantly and beyond recognition too.
If not that they are sponsored to weaken the ever raising Peter Obi's tsunami, why would any reasonable person fight those who, with their time and resources, made themselves available to help you do what you know, if left alone, you cannot do, in other to achieve your desired goal? Why would members of Labour Party, in particular that of Imo state, who hitherto were finding it difficult to breathe, go on air to denounce a properly coordinated and inugurated campaign council by no less a person than Prof. Pat Utomi, the national leader of the party?
If for nothing, a political scientist, wizkid, oracle and encyclopedia like Dr. Fabain Ihekweme, should be commended and appreciated. First, to have made Imo state the first to be inugurated and used as a template for other states, and secondly, to have successfully brought other political juggernauts, leaders, financial and security experts, entrepreneurs, industrialists, educationists, farmers, religious leaders, journalists, youths, women organisations, members of the informal sector, grassroot/comminity leaders and mobilizers in the state under one root, for a common purpose: Peter Obi's victory.
That shows love, seriousness, commitment, purpose driven, proactiveness, responsibleness, trustworthiness, vigilance, watchfulness, alertness, attentiveness and Godliness on the part of Dr. Ihekweme, to have pulled that through. How else do you call something groundbreaking? Isn't that an award winning action? Madu oga egbu agụ ole tupu akpọọ ya ogbu agụ?
Why Imo state, one may ask? To answer the question, why did the APC and PDP find it difficult to allow an aspirant from the South East fly their parties flags in the coming 2023 general elections, even when there was a zoning understanding? Whatever it is, is still the same reason, they will do everything, through the assistance of those not to far, to scruttle Peter Obi's ambition and the change really deserved by Nigerians, through Labour party.
If I were the Labour Party and if their goal is to deliver Peter Obi / Ahmed Datti and by extension, other candidates running for other positions under the party, I will simply welcome the presidential campaign council with both hands, knowing that we as a party are the greatest beneficiaries. First, under them and by the special grace of God, the party is going to produce the next president of Nigeria. Secondly, the presidential campaign council has a very short lifespan, which will end as soon as the general elections are over in February 2023, thereafter, the party carries on and enjoy the full glory.
May the Labour Party be reminded, for the umpteenth time, that it is the candidate and not the party who decides or appoints those to be involved in running his campaign, while the party corporates and provides assistance where and when needed. Truth be told, all those working for the emergence of Peter Obi as the next president of Nigeria are not just members of Labour party alone, but across board, even though majority of them are now registering as Labour Party members.
I encourage all the major stakeholders of the party and lovers of Peter Obi, to please appeal to the party not to be carried away by old ways of doing things. We have left Egypt and we don't intend to go back. We have gone beyond being traditional conformist to being creative minded proactive idea incubators, and that we will unleash when the campaigns start.
Peter Obi's ambition is now beyond an individual or party, because Peter Obi himself nor Labour Party can not stop the movement. The Labour Party should not allow themselves to be used by a few bad eggs, but rather embrace the already inugurated presidential campaign council and work hand in hand with them to deliver the state, one hundred percent for Peter Obi.
Two good heads, they say will always be better than one. There is victory in sight and together, it is achievable. Yes, we can!
Shalom!