Charles Dillibe Ejiofor Onyeama, better known as Dillibe Onyeama was born on the 6th of January, 1951 in Enugu State as the second son to late Judge Charles Dadi Umeha Onyeama (a Justice of the Supreme Court of Nigeria and a Judge at the International Court of Justice, The Hague) and late Mrs. Susannah Uzoamaka Onyeama (née Ogwudu). He was one of the grandsons of the Paramount Chief Onyeama n'Eke, Okwuroha of Agbaja and a native of Obunagu, Amankwo Eke, in Udi local Government Area of Enugu State, Nigeria. Dillibe was an author, publisher, politician and businessman.
Destined for a great future, he was registered on the very day of his birth, by his father, to attend the prestigious Eton College in the United Kingdom. He attended WTC Primary School in Enugu briefly before leaving the shores of Nigeria at the age of eight to continue his education in the UK. He completed his primary school at Grove Park Preparatory School, Crowborough, Sussex, England and went on to Eton College from 1965 to 1969.
Filled with pride and enthusiasm at having made it to Eton, he believed he would enjoy his time there as he did at Grove Park but that was not the case, as his time at the famous College was marred with racial discrimination and bullying, to which he imperatively responded with bold and defensive resistance; dealing correctional blows to his bullies and abusers. He excelled in school sports, which his contemporaries attributed to his race and whenever he performed poorly in his academics, it was also attributed to his race. Against all odds, Dillibe persevered and went on to make history as the first black person to graduate from Eton College.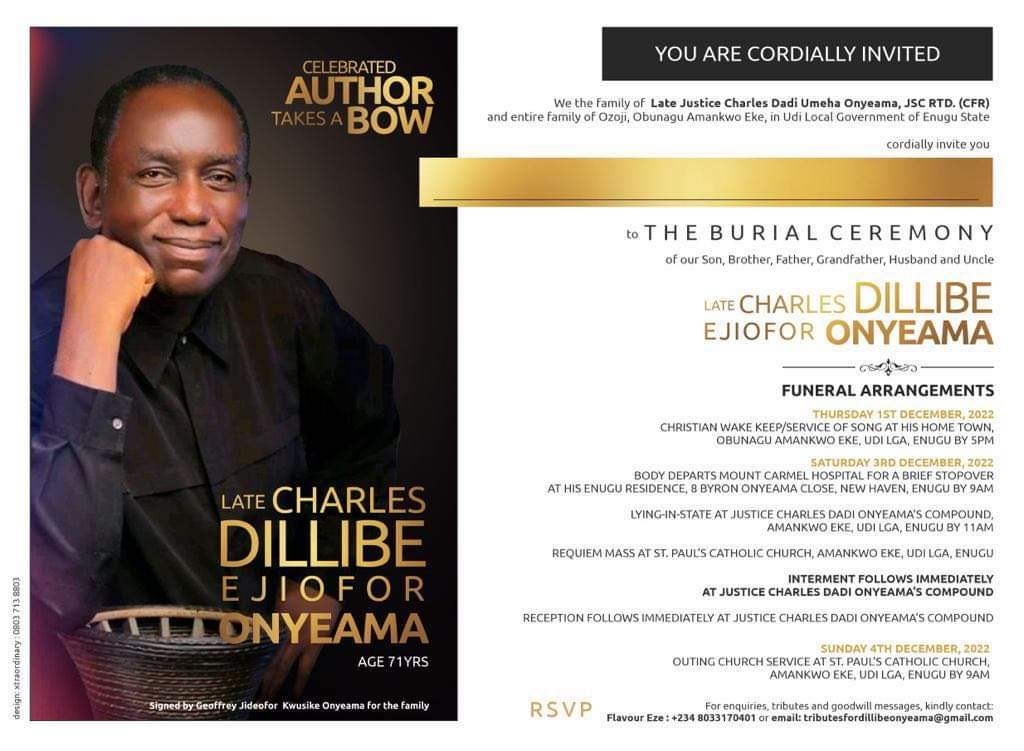 He wrote his famous book 'Nigger at Eton' (published in 1972 by Leslie Frewin), detailing his experience at the elite British boarding school, and this resulted in his being banned from visiting the school by the then headmaster, Michael McCrum. The ban was lifted about 35 years later.
In 2020, following the Black Lives Matter protests of the death of George Floyd at the hands of US Law Enforcement agents, the current headmaster of Eton, Simon Henderson, tendered an official apology to Dillibe for the treatment he received during his time at Eton, and stated that he was always welcome at the school.
After he graduated from Eton, Dillibe went on to obtain a diploma from the Premier School of Journalism incorporating the Writer's School of Great Britain. He worked as a journalist and authored several books, notably: Sex is a Nigger's Game, John Bull's Nigger, I'm the Greatest: The Wit and Humor of Muhammad Ali — all before returning to Nigeria in 1981 and establishing his publishing company, Delta Publications (Nigeria) Ltd.
Dillibe married his first wife, an English woman named Patricia Aileen Dickson, in 1977. The marriage ended in divorce. In 1982 He married his second wife, Ethel Onyinyechi, with whom he had four sons: Chetanna Charles, Louis Dillibe jnr., Steven Ejiofor and Justice Chito. The marriage later broke up and in 1995, he married his third and last wife, Nneka Celestina, with whom he had two beautiful daughters; Manuela Charlotte and Jennifer Chinelo.
Dillibe's main interests were politics, sports, discovering and promoting creative talents (especially literary talents). He was also a great lover of nature. He authored 27 books in his lifetime notably: Juju, The Revenge of the Medicine Man, Godfathers of Voodoo, Secret Society, Chief Onyeama: The Story of an African God; African Legend, Modern Messiah and the famous 'Nigger at Eton' later republished as 'A Black Boy at Eton' by Penguin Books in February, 2022. He also published 600 titles through his company, Delta publications.
In the late 1980s, Dillibe entered the political arena and formed the political party, The All Peoples Party (TAPP). In 1992/93, he was appointed member of the Board of Directors of Daily Star. He was later appointed member of the five-man caretaker committee, simultaneously serving as the Deputy Chairman of Udi Local Government Council, Enugu State, under the administration of Colonel Mike Torrey. He served as the Chairman of the Association of Nigerian Authors (ANA) Enugu Chapter from 2003 to 2004; and was a member of the Enugu Sports Club for many years.
He established 'The Delta Book Club' a subsidiary of Delta publications (Nigeria) limited for the promotion of reading culture in Nigeria, and sponsorship of several awards for students and aspiring writers. Most notable of these were the annual Delta Fiction Award and Delta Students' Award, both of which reached their height of acclaim in the 1980s and earned commendation from the Federal Government and the then Anambra State Government. In the 1990s the Club sponsored the employment of active teachers, to engage in free adult education for rural folks in 6 Local Government communities in Enugu State, comprising 10 centers. In 2009, he began the annual Coal City Book Convention through The Delta Book Club, for the conferment of the Olaudah Equiano Life Award on distinguished personalities in the literary field. In 2019, he extended the event to Lagos, under the title 'Profiles at the Lagoon' for the annual conferment of the Amos Tutuola Life Award. He also created the Abubakar Gimba Literary Award which maiden event was held in Abuja in 2018.
Dillibe Onyeama was a larger-than-life personality, admired and respected by many as a legendary African patriot. He was a great inspiration to countless young persons, especially those aspiring to become successful writers. His unflinching commitment to literary and social activism was a great example to thousands of youths.
He was one who loved to enjoy life to the fullest, appreciating and taking note of the beauty of Nature. Two outstanding qualities he possessed were courage and contentment. He was a sportsman and loved Boxing, Martial Arts, and Tennis, greatly inspired by Muhammad Ali and Bruce Lee. His favorite music comprised Opera, Igede and Eke's famous Abia Nshi. In the last years of his life, he took a great interest in Nigerian Hip Hop music. He was a lover of such TV programmes and channels as: CSI Crime Scene Investigation, Discovery and NATGEO Wild. He was fond of aircrafts and classical Jaguar cars. He loved children, was an ardent believer in God and believed in the second coming of Jesus Christ. He was a strict and disciplined man who always stood up for what is right. As a father and husband, he was loving, caring, protective. He lived a life of generosity, dignity and integrity. Some of his favorite quotes were: "Whatever you do, never be the aggressor ". "When in doubt, leave it out"
On the 10th of November, 2022, Dillibe Onyeama suffered a fatal heart attack and was pronounced dead at about 23:00hrs in a hospital in Enugu. His sudden demise was a big shock and devastating news, as he was always vibrant, passionate and hardworking. His life would continue to inspire many across boundaries and generations for several years to come.