The Abia State Police Command has announced the establishment of Police Complaints Response Unit (CRU) in the State.
This was contained in a statement on Wednesday, October 11, 2023, signed by the Abia State Police Public Relations Officer (PPRO), ASP Maureen Chinaka.
The statement further enumerated steps to be taken in an event that one encounters brutality or harassment by Police personnel.
The statement reads in full:
"In line with the directive of the IGP, The Abia State Police Command is pleased to announce the establishment of the Police Complaints Response Unit (CRU) in the State. This specialized unit within the Nigerian Police Force is dedicated to addressing complaints and reports of police misconduct, thereby ensuring accountability and transparency in the actions of police officers and fostering a positive relationship between the police and the public in the State.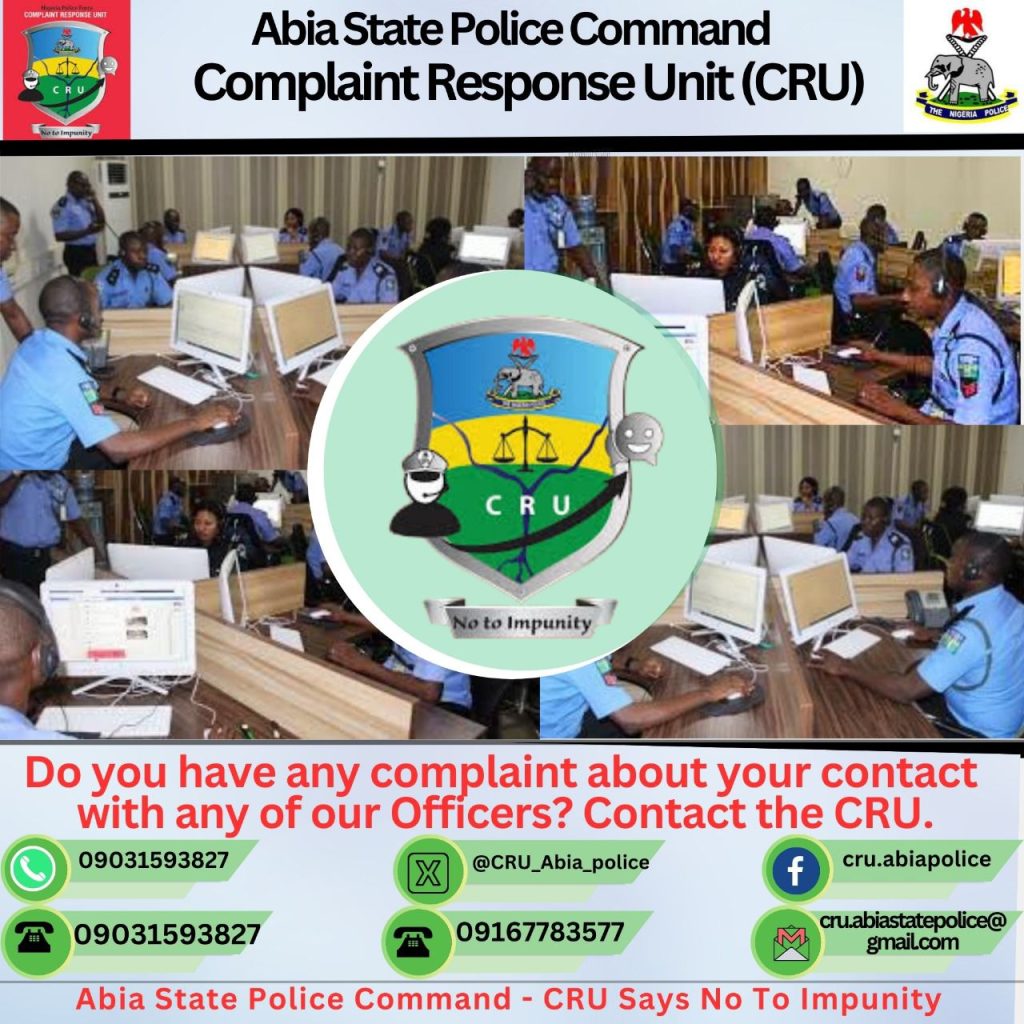 "In the event of encountering brutality or any form of misconduct from police officers, residents of Abia State are encouraged to follow these essential steps:
✅ Stay Calm: It is crucial to remain calm and composed during any encounter with the police. Avoid aggressive reactions, as this can escalate the situation.
✅ Document the Incident: If possible, record the incident discreetly using your smartphone or other recording devices. Capture both audio and video evidence to support your complaint.
✅ Obtain Officer Information: Note down the name and any other identifying information of the involved police officers. This information is vital for filing a complaint.
✅ Gather Witness Information: If there are witnesses present, collect their contact information. Witnesses can provide valuable testimony in support of your complaint.
✅ File a Complaint: Contact the Police Complaints Response Unit (CRU) to report the incident. The CRU can be reached through various channels, 09031593827(calls & WhatsApp), email: cru.abiastatepolice@gmail.com, Twitter handle: @CRU_Abia_Police, Facebook Page: Complaint Response Abia State Command and PRO Office line 09167783577
"When making a complaint, please ensure to provide details of the incident, including officer's information and evidence you may have.
By reporting incidents and following the appropriate steps, individuals can contribute significantly to holding police officers accountable for their actions and work towards a more just and accountable police force."
SIGNED
ASP Maureen Chinaka LLB Anipr
Police Public Relations Officer
FOR: The Commissioner Of Police
Abia State Command
October 11, 2023